Page 5 - 2022 Chester County Guide & CCCBI Membership Directory
P. 5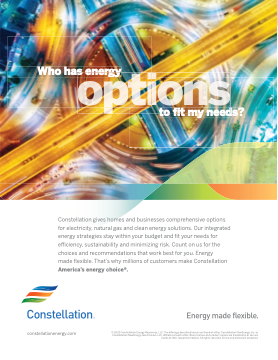 Who has
s
e
e
n
n
e
e
r
r
g
g
y
y
        to fit my needs?
             Constellation gives homes and businesses comprehensive options for electricity, natural gas and clean energy solutions. Our integrated energy strategies stay within your budget and fit your needs for efficiency, sustainability and minimizing risk. Count on us for the choices and recommendations that work best for you. Energy
made flexible. That's why millions of customers make Constellation America's energy choice®.
    constellationenergy.com
© 2022 Constellation Energy Resources, LLC. The offerings described herein are those of either Constellation NewEnergy, Inc. or Constellation NewEnergy-Gas Division, LLC, affiliates of each other. Brand names and product names are trademarks or service marks of their respective holders. All rights reserved. Errors and omissions excepted.