Page 3 - 2022 Chester County Guide & CCCBI Membership Directory
P. 3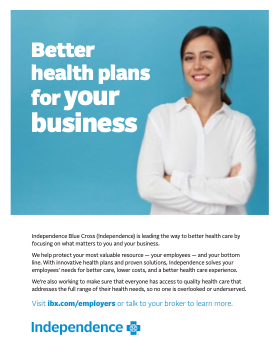 Better health plans for your
business
Independence Blue Cross (Independence) is leading the way to better health care by focusing on what matters to you and your business.
We help protect your most valuable resource — your employees — and your bottom line. With innovative health plans and proven solutions, Independence solves your employees' needs for better care, lower costs, and a better health care experience.
We're also working to make sure that everyone has access to quality health care that addresses the full range of their health needs, so no one is overlooked or underserved.
Visit ibx.com/employers or talk to your broker to learn more.