Page 20 - Baltimore Fishbowl - 2017 School Guide
P. 20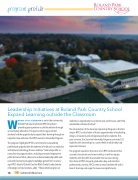 program profile
Leadership Initiatives at Roland Park Country School WExpand Learning outside the Classroom
HETHER IN THE CLASSROOM oroutinthecommunity, Roland Park Country School (RPCS) has been providing young women a solid foundation through
an exemplary education. This past summer, upper school students had the opportunity to expand their learning through an important new initiative: the RPCS Summer Internship Program.
The program highlights RPCS's commitment to expanding
  many learning opportunities, including increased exposure to  real-world scenarios to apply knowledge gained from courses," says RPCS Head of School Caroline Blatti. Emily Cooke, director
of strategic communications, adds: "These initiatives give our
18  
students an opportunity to connect to real-world issues and think


step in RPCS's articulation of future opportunities in leadership, design, innovation and entrepreneurship for students. This past summer, the Summer Internship Program connected 33  expressed interest.
The program speaks to the vision of an RPCS education that connects classrooms and communities, as well as equips students with the skills that enable their success during
their time at RPCS, beyond graduation day and into their professional journeys. RPCS seeks to send students off with a love of learning and eager for new accomplishments.