Page 18 - Baltimore Fishbowl - 2017 School Guide
P. 18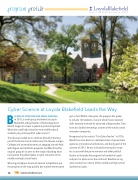 program profile
B
IG IDEAS ARE OFTEN BORN FROM HUMBLE BEGINNINGS. just as fast. Within a few years, the program has grown
In 2012, a small group of students at Loyola

Morrill, began to answer a question yet to be explored: What role could high school (or even middle school) students play in the world of cyber science?
The idea was cooked up in a kitchen (literally!) that was part of the former Jesuit residence on the Towson campus.   original group of six were on the verge of building what has become the global leader in cyber education at the middle and high school levels.
Winning prestigious local and national competitions put the program on the map quickly, but student interest grew
16  
to include 120 students, many of whom have mastered skills normally reserved for advanced college studies. They have also landed internships at some of the nation's most innovative companies.
Recognized as the nation's "First Cyber Teacher" in 2016, Morrill has since been on a whirlwind tour of government agencies, international conferences, and during part of the summer of 2017, he was in Australia sharing his recipe
for success with the prime minister and other political leaders as they take the program he founded at Loyola and put it in place across the continent. Needless to say, cyber science has come to life for middle and high school students at Loyola.