Page 45 - Kent County 2022 Visitors Guide
P. 45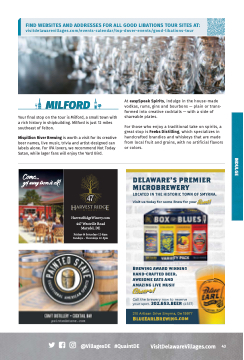 FIND WEBSITES AND ADDRESSES FOR ALL GOOD LIBATIONS TOUR SITES AT:
visitdelawarevillages.com/events-calendar/top-dover-events/good-libations-tour
                         
a rich history in shipbuilding. Milford is just 12 miles southeast of Felton.
Mispillion River Brewing is worth a visit for its creative beer names, live music, trivia and artist-designed can labels alone. For IPA lovers, we recommend Not Today Satan, while lager fans will enjoy the Yard Bird.
Come...
get away from it all!
At easySpeak Spirits, indulge in the house-made vodkas, rums, gins and bourbons — plain or trans- formed into creative cocktails — with a side of shareable plates.
For those who enjoy a traditional take on spirits, a great stop is Feebs Distilling, which specializes in handcrafted brandies and whiskeys that are made from local fruit and grains, with no artificial flavors or colors.
DELAWARE'S PREMIER MICROBREWERY
LOCATED IN THE HISTORIC TOWN OF SMYRNA.
Visit us today for some Brew for your
    HarvestRidgeWinery.com
447 Westville Road Marydel, DE
Fridays & Saturdays 12-8pm Sundays – Thursdays 12-5pm
             Brewing award winning hand-crafted beer, awesome eats and amazing live music
Call the brewery now to reserve your spot. 302.653.BEER (2337)
               210 Artisan Drive Smyrna, De 19977
BlueEarlBrewing.com
    @VillagesDE #QuaintDE VisitDelawareVillages.com 43
INDULGE
Cheers!
Soul!