Page 22 - The Hunt - Summer 2022
P. 22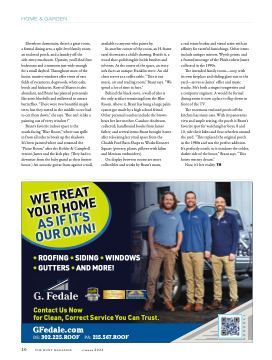 HOME & GARDEN
 Elsewhere downstairs, there's a great room, a formal dining area, a split-level family room, an enclosed porch, and a laundry off the side-entry mudroom. Upstairs, you'll find four bedrooms and a sunroom just wide enough for a small daybed. Throughout most of the house, massive windows offer views of vast fields of sycamores, dogwoods, white oaks, beech and hickories. Rose of Sharon is also abundant, and Brant has planted perennials like aster, bluebells and milkweed to attract butterflies. "There were two beautiful maple trees, but they rotted in the middle, so we had to cut them down," she says. "But isn't it like a painting out of every window?"
Brant's favorite indoor space is the south-facing "Blue Room," where sun spills
in from all sides to break up the shadows.
It's been painted white and renamed the "Piano Room," after the Kohler & Campbell version James and the kids play. (They had to downsize from the baby grand at their former house.) An acoustic guitar leans against a wall,
available to anyone who passes by.
In another corner of the room, an H-frame
easel showcases a child's drawing. Beside it, a wood shoe-polishing kit holds brushes and solvents. At the center of the space, an ivory sofa faces an antique Franklin stove. An old chest serves as a coffee table. "This is our music, art and reading room," Brant says. "We spend a lot of time in here."
Behind the black stove, a wall of tiles is
the only artifact remaining from the Blue Room. Above it, Brant has hung a large palm cyanotype made by a high school friend. Other personal touches include the brown bears her late mother, Candace Anderson, collected; handbound books from James' father; and several items Brant brought home after relocating her retail space from the Chadds Ford Barn Shops to Works Kennett Square (pottery, plants, pillows with kilim and Mexican embroidery).
On display between rooms are more collectibles and works by Brant's mom,
a real estate broker and visual artist with an affinity for tasteful furnishings. Other items include antique mirrors, Wyeth prints, and a framed montage of the Phish tickets James collected in the 1990s.
The intended family room—cozy, with its own fireplace and sliding glass exit to the yard—serves as James' office and music studio. He's both a singer/songwriter and
a computer engineer. A would-be formal dining room is now a place to flop down in front of the TV.
The enormous enclosed porch off the kitchen has many uses. With its panoramic view and ample seating, the porch is Brant's favorite spot for watching her boys, 8 and 10, ride their bikes and four-wheelers around the yard. "This replaced the original porch in the 1980s and was the perfect addition. It's perfectly north, so it insulates the colder, darker side of the house," Brant says. "This house was my dream."
Now, it's her reality. TH
   • ROOFING • SIDING • WINDOWS • GUTTERS • AND MORE!
Contact Us Now
for Clean, Correct Service You Can Trust.
       GFedale.com
DE: 302.225.ROOF PA: 215.567.ROOF
  20 THE HUNT MAGAZINE summer 2022
WETREAT YOUR HOME AS IF IT'S OUR OWN!