Page 76 - The Hunt - Fall 2023
P. 76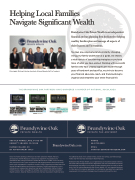 Helping Local Families Navigate Significant Wealth
 Principals: Michael Henley (center), Alison Brooks (left of center)
Brandywine Oak Private Wealth is an independent financial and tax planning firm dedicated to helping wealthy families plan and manage all aspects of their finances and investments.
Tax laws are complicated and constantly changing. Using your family wealth plan as a guide, we employ
a wide variety of tax planning strategies so you keep more of what you have earned. Working with successful families who have created significant wealth through years of hard work and sacrifice, we strive to become your financial advocate, coach, and friend working to organize and streamline your entire financial life.
 THE BRANDYWINE OAK PARTNERS HAVE GARNERED A NUMBER OF NATIONAL ACCOLADES:
WEALTH ADVISORS 2021 © 2021 FORBES LLC - USED WITH PERMISSION
              500 OLD FORGE LANE, SUITE 501 KENNETT SQUARE, PA 19348
KIAWAH ISLAND, SC
BY APPOINTMENT ONLY
  BrandywineOak.com
PHONE 484.785.0050
EMAIL CONTACT@BRANDYWINEOAK.COM
 Note: The Forbes ranking of America's Top Next Generation Wealth Advisors, developed by SHOOK Research, is based on an algorithm of qualitative and quantitative data, rating thousands of wealth advisors born in 1980 or more recently, with a minimum of four years of experience and weighing factors like revenue trends, assets under management, compliance records, industry experience and best practices learned through telephone and in-person interviews. Portfolio performance is not a criterion due to varying client objectives and lack of audited data. Neither Forbes or SHOOK receive a fee in exchange for rankings. See America's Top Next-Generation Wealth Advisors, State-By-State and America's Top Next Generation Wealth Advisors.
For additional detail on the criteria Forbes used for the ranking, see Methodology: Forbes Top-500 Top Next Generation Wealth Advisors.
Brandywine Oak Private Wealth, LLC is registered as an investment adviser with the Securities and Exchange Commission. Registration with the United States Securities and Exchange Commission or any state securities authority does not imply a certain level of skill or training. Brandywine Oak Private Wealth, LLC only transacts business in states where it is properly registered, or is excluded or exempted from registration requirements. All investment strategies have the potential for profit or loss.