Page 28 - 2022 Chester County Guide & CCCBI Membership Directory
P. 28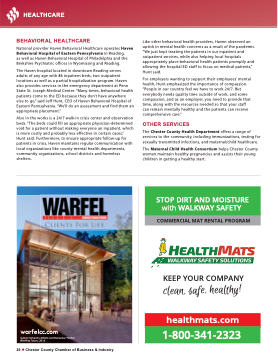 HEALTHCARE
CHESTER COUNTY CHAMBER
 BEHAVIORAL HEALTHCARE
National provider Haven Behavioral Healthcare operates Haven Behavioral Hospital of Eastern Pennsylvania in Reading,
as well as Haven Behavioral Hospital of Philadelphia and the Berkshire Psychiatric offices in Wyomissing and Reading.
The Haven hospital located in downtown Reading serves
adults of any age with 86 inpatient beds, two outpatient locations as well as a partial hospitalization program. Haven also provides services in the emergency department at Penn State St. Joseph Medical Center. "Many times, behavioral health patients come to the ED because they don't have anywhere else to go," said Jeff Hunt, CEO of Haven Behavioral Hospital of Eastern Pennsylvania. "We'll do an assessment and find them an appropriate placement."
Also in the works is a 24/7 walk-in crisis center and observation beds. "The beds could fill an appropriate physician-determined void for a patient without making everyone an inpatient, which is more costly and probably less effective in certain cases," Hunt said. Furthermore, to ensure appropriate follow-up for patients in crisis, Haven maintains regular communication with local organizations like county mental health departments, community organizations, school districts and homeless shelters.
Like other behavioral health providers, Haven observed an uptick in mental health concerns as a result of the pandemic. "We just kept treating the patients in our inpatient and outpatient services, while also helping local hospitals appropriately place behavioral health patients promptly and allowing the hospital ED staff to focus on medical patients," Hunt said.
For employers wanting to support their employees' mental health, Hunt emphasized the importance of compassion. "People in our country feel we have to work 24/7. But everybody needs quality time outside of work, and some compassion, and as an employer, you need to provide that time, along with the resources needed so that your staff can remain mentally healthy and the patients can receive comprehensive care."
OTHER SERVICES
The Chester County Health Department offers a range of services to the community, including immunizations, testing for sexually transmitted infections, and maternal/child healthcare.
The Maternal Child Health Consortium helps Chester County women maintain healthy pregnancies and assists their young children in getting a healthy start.
   STOP DIRT AND MOISTURE with WALKWAY SAFETY
COMMERCIAL MAT RENTAL PROGRAM
       KEEP YOUR COMPANY
  warfelcc.com
Cabrini University Athletic and Recreation Pavilion ©Jeffrey Totaro, 2016
healthmats.com
1-800-341-2323
26 Chester County Chamber of Business & Industry
  clean, safe, healthy!