Page 25 - 2022 Chester County Guide & CCCBI Membership Directory
P. 25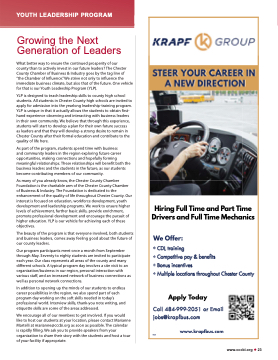 YOUTH LEADERSHIP PROGRAM
                  
 
 
   
 
    
 
    
     

       www.cccbi.org 23
Growing the Next
Generation of Leaders
What better way to ensure the continued prosperity of our
county than to actively invest in our future leaders? The Chester County Chamber of Business & Industry goes by the tag line of
"the Chamber of Influence." We strive not only to influence the immediate business climate, but also that of the future. One vehicle for that is our Youth Leadership Program (YLP).
YLP is designed to teach leadership skills to county high school students. All students in Chester County high schools are invited to apply for admission into the yearlong leadership-training program. YLP is unique in that it actually allows the students to obtain first- hand experience observing and interacting with business leaders in their own community. We believe that through this experience, students will start to develop a plan for their own future success
as leaders and that they will develop a strong desire to remain in Chester County after their formal education and contribute to the quality of life here.
As part of the program, students spend time with business
and community leaders in the region exploring future career opportunities, making connections and hopefully forming meaningful relationships. These relationships will benefit both the business leaders and the students in the future, as our students become contributing members of our community.
As many of you already know, the Chester County Chamber Foundation is the charitable arm of the Chester County Chamber of Business & Industry. The Foundation is dedicated to the enhancement of the quality of life throughout Chester County. Our interest is focused on education, workforce development, youth development and leadership programs. We work to ensure higher levels of achievement, further basic skills, provide enrichment, promote professional development and encourage the pursuit of higher education. YLP is our vehicle for achieving each of these objectives.
The beauty of the program is that everyone involved, both students and business leaders, comes away feeling good about the future of our county leaders.
Our program participants meet once a month from September through May. Seventy to eighty students are invited to participate each year. Our class represents all areas of the county and many different schools. A typical program day involves a site visit to an organization/business in our region, personal interaction with various staff, and an increased network of business connections as well as personal network connections.
In addition to opening up the minds of our students to endless career possibilities in the region, we also spend part of each program day working on the soft skills needed in today's professional world. Interview skills, thank-you note writing, and etiquette skills are some of the areas addressed.
We encourage all of our members to get involved. If you would like to host our students at your location, please contact Marianne Martelli at marianne@cccbi.org as soon as possible. The calendar is rapidly filling. We ask you to provide speakers from your organization to share their story with the students and host a tour of your facility if appropriate.