Page 33 - Valley Table - Spring 2021
P. 33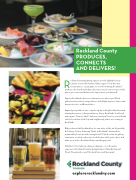 Rockland's amazing dining options are the highlight of any culinary tour in the Hudson Valley region. From five-star restaurants, to casual pubs, to riverfront dining, Rockland
produces the hand-crafted products you need, connects you to the places you crave and delivers the experience you demand!
Explore Rockland's diverse restaurant scene where you'll find global cuisines whose unique flavors will delight anyone's tastes and transport you to a different place.
Expand your palate in one complex sip by visiting Rockland's award- winning breweries, cidery and winery. Enjoy Rockland's local fresh and organic "farm-to-table" delicacies and you'll see for yourself why visitors from New York City and neighboring states are coming to Rockland!
Did you know that Rockland has its own state-of-the-art Hospitality & Culinary Center featuring "Made In Rockland" artisanal fair prepared by local, up-and-coming talent? Check out an art gallery, a museum, or catch a show at a local theatre while you're here and make your visit to Rockland truly something special.
Whether it's for takeout, delivery, dining in, or on the patio, experience Rockland County during Hudson Valley Restaurant Week. We guarantee you'll be back time and time again!
  explorerocklandny.com
 Rockland County PRODUCES, CONNECTS AND DELIVERS!