Page 69 - The Hunt - Spring/Summer 2023
P. 69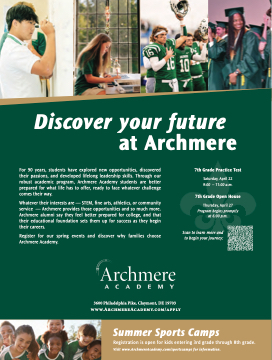 Discover your future
at Archmere
 For 90 years, students have explored new opportunities, discovered their passions, and developed lifelong leadership skills. Through our robust academic program, Archmere Academy students are better prepared for what life has to offer, ready to face whatever challenge comes their way.
Whatever their interests are — STEM, fine arts, athletics, or community service — Archmere provides those opportunities and so much more. Archmere alumni say they feel better prepared for college, and that their educational foundation sets them up for success as they begin their careers.
Register for our spring events and discover why families choose Archmere Academy.
7th Grade Practice Test
Saturday, April 22
9:00 – 11:00 a.m.
7th Grade Open House
Thursday, April 27
Program begins promptly at 6:00 p.m.
Scan to learn more and to begin your journey:
   3600 Philadelphia Pike, Claymont, DE 19703 www.ArchmereAcademy.com/apply
  Summer Sports Camps
Registration is open for kids entering 3rd grade through 8th grade.
Visit www.ArchmereAcademy.com/sportscamps for information.