Page 40 - The Hunt - Spring/Summer 2023
P. 40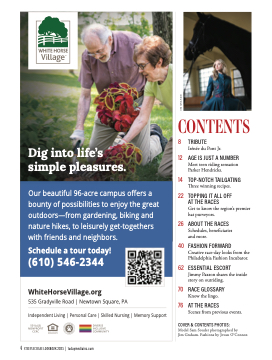 Dig into life's simple pleasures.
 Our beautiful 96-acre campus offers a bounty of possibilities to enjoy the great outdoors—from gardening, biking and nature hikes, to leisurely get-togethers with friends and neighbors.
Schedule a tour today! (610) 546-2344
WhiteHorseVillage.org
535 Gradyville Road | Newtown Square, PA
Independent Living | Personal Care | Skilled Nursing | Memory Support
    JIM GRAHAM
4 STEEPLECHASE LOOKBOOK 2023 | todaymediainc.com
CONTENTS
8 TRIBUTE
Irénée du Pont Jr.
12 AGE IS JUST A NUMBER Meet teen riding sensation Parker Hendricks.
14 TOP-NOTCH TAILGATING Three winning recipes.
22 TOPPINGITALLOFF AT THE RACES
Get to know the region's premier hat purveyors.
26 ABOUTTHERACES Schedules, beneficiaries and more.
40 FASHIONFORWARD
Creative race-day looks from the Philadelphia Fashion Incubator.
62 ESSENTIALESCORT
Jimmy Paxson shares the inside story on outriding.
70 RACEGLOSSARY Know the lingo.
76 ATTHERACES
Scenes from previous events.
COVER & CONTENTS PHOTOS:
Model Sam Souder photographed by
Jim Graham. Fashions by Jovan O'Connor.