Page 39 - The Hunt - Spring/Summer 2023
P. 39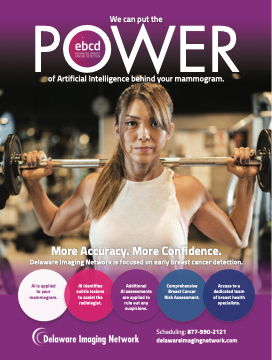 POWER
We can put the
 of Artificial Intelligence behind your mammogram.
 More Accuracy. More Confidence. Delaware Imaging Network is focused on early breast cancer detection.
 AI is applied to your
AI identifies Additional Comprehensive Access to a subtle lesions AI assessments Breast Cancer dedicated team
to assist the are applied to Risk Assessment. of breast health radiologist. rule out any specialists.
suspicions.
Scheduling: 877-990-2121 delawareimagingnetwork.com
mammogram.