Page 130 - The Hunt - Spring/Summer 2023
P. 130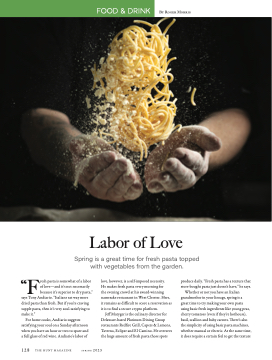 FOOD & DRINK
By Roger Morris
 "Fresh pasta is somewhat of a labor of love—and it's not necessarily
because it's superior to dry pasta," says Tony Andiario. "Italians eat way more dried pasta than fresh. But if you're craving
supple pasta, then it's very soul-satisfying to make it."
For home cooks, Andiario suggests satisfying your soul on a Sunday afternoon when you have an hour or two to spare and a full glass of red wine. Andiario's labor of
love, however, is a self-imposed necessity.
He makes fresh pasta every morning for
the evening crowd at his award-winning namesake restaurant in West Chester. Here, it remains as difficult to score a reservation as it is to find a secure crypto platform.
Jeff Matyger is the culinary director for Delaware-based Platinum Dining Group restaurants Redfire Grill, Capers & Lemons, Taverna, Eclipse and El Camino. He oversees the huge amount of fresh pasta those spots
produce daily. "Fresh pasta has a texture that store-bought pasta just doesn't have," he says.
Whether or not you have an Italian grandmother in your lineage, spring is a
great time to try making your own pasta using basic fresh ingredients like young peas, cherry tomatoes (even if they're hothouse), basil, scallion and baby carrots. There's also the simplicity of using basic pasta machines, whether manual or electric. At the same time, it does require a certain feel to get the texture
128 THE HUNT MAGAZINE spring 2023
Labor of Love
Spring is a great time for fresh pasta topped with vegetables from the garden.