Page 48 - The Hunt - Fall 2023
P. 48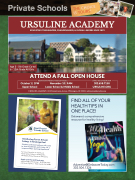 URSULINE ACADEMY EDUCATING TRAILBLAZERS, CHANGEMAKERS, & GLOBAL LEADERS SINCE 1893
Age 3 - 5th Grade Co-ed 6 - 12th Grade All Girls
ATTEND A FALL OPEN HOUSE ATTEND A FALL OPEN HOUSE
REGISTER TODAY! PERSONAL TOURS ALSO AVAILABLE
CONTACT OUR ADMISSIONS TEAM October 1 | 1PM November 10 | 9AM
302.658.7158 Upper School Lower School & Middle School
URSULINE.ORG URSULINE ACADEMY | 1106 Pennsylvania Avenue, Wilmington, DE 19806 | admissions@ursuline.org
Introducing Forest School Fridays in Kindergarten!
Students and their teachers will travel
to local woodlands each Friday, for a unique outdoor learning experience!
For more information on WCFS and
Forest School Fridays in Kindergarten,
call Barbara Rowe, Director of Admissions
Apply at www.wcfriends.org admissions@wcfriends.org | (610) 696-2937 415 North High St. | West Chester, PA 19380
Advertise@DelawareToday.com 302.504.1326
FIND ALL OF YOUR HEALTH TIPS IN ONE PLACE! Delaware's comprehensive resource for healthy living!