Page 40 - The Hunt - Fall 2023
P. 40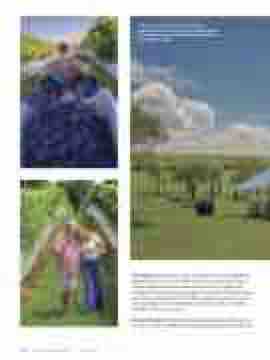 (This page, clockwise from left) Harvesting
grapes at Penns Woods Winery; its inviting grounds; Penns Woods owner Gino Razzi strolls the vineyard with daughter Carley.
 38 THE HUNT MAGAZINE
fall 2023
Grace Winery. After taking over what was then Sweetwater Farm B&B after the death of his sister Grace in 1999, Chris LeVine transformed the historic 1740s malting barn and created a state-of-the-art winery complete with catering and event space, planting an eight-acre vineyard with Andrew Yingst as winemaker. LeVine and his wife, Vicki, also manage the property's inn, its kitchen presided over by chef Dan Wood. 50 Sweetwater Road, Glen Mills, (610) 459-4711, gracewinery.com.
Paradocx Vineyard. After first establishing a commercial vineyard that grew to 30 acres, the Harris and Hoffmann families opened Paradocx Vineyard in 2002.