Page 44 - Vallet Table - Spring 2020
P. 44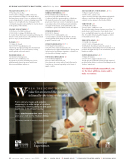 HUDSON VALLEY RESTAURANT WEEK | MARCH 16–29, 2020
VILLAGE SOCIAL RYE L D T X
67 Purchase Street, Rye
914.612.4267; villagesocialkb.com/rye-ny
Sister restaurant to Village Social in Mt. Kisco,
this brand new eatery focuses on utilizing locally sourced ingredients to create a stunning menu that makes you feel right at home. Being part of the community is paramount, and that is clearly shown in the quality of their dishes.
VINTAGE 1891 KITCHEN D T
2089 Boston Post Rd, Larchmont
914.834.9463; vintage1891kitchen.com
A creative New American restaurant and lounge for diners to relax and renew in a beautifully renovated space to enjoy a seasonal menu.
WASABI L D X
110 Main St, Nyack
845.358.7977; wasabinyack.com
Chef Doug Chi Nguyen brings his international influence and love of food to Nyack, serving artfully plated sushi and entrées.
WILDFIRE GRILLE L D
74 Clinton St, Montgomery
845.457.3770; wildfireny.com
A popular local eatery featuring an eclectic, predominantly American menu with Asian, Mexican and Italian influences.
WILLOW BY CHARLIE PALMER AT
MIRBEAU RHINEBECK L D X
46 West Market Street, Rhinebeck
877.647.2328; willow.mirbeau.com
Combined with the spa atmosphere of Mirbeau, the menu showcases the team's dedication to progressive American cuisine. Featuring local and seasonal produce from multi-generational farms, emergent food artisans, and craft distillers, the restaurant is open for breakfast, lunch, and dinner.
WINDSOR GRILLE D
425 E Rt 59, Nanuet
845.623.6000; windsorgrille.com Conveniently located in the DoubleTree Hotel, offering grilled steaks, burgers, pasta, and other popular comfort foods.
WINSTON RESTAURANT D T X
130 E Main St, Mount Kisco
914.244.9780; winstonrestaurant.com Sophisticated yet approachable bistro offering New American fare and unique signature cocktails in a sleek multilevel dining complex.
X2O XAVIARS ON THE HUDSON L D T X
71 Water Grant St, Yonkers
914.965.1111; xaviars.com
Classic French technique with Italian and Spanish influences and Asian embellishments yields an original cuisine unique to the Hudson Valley.
YARD HOUSE L D
237 Market St, Yonkers
914.375.9273; yardhouse.com
The globally inspired menu features more than 100 made-from-scratch favorites, from salads, street tacos, and grilled burgers to seafood, steaks, and ribs. A modern American gathering place, where food and beer lovers unite.
ZERO OTTO NOVE L D X
55 Old Rt. 22, Armonk
914.273.0089; 089armonk.com
Chef Roberto Paciullo provides the a taste of Southern Italy in abundant portions fueled by local products brought directly to the restaurant's quaint farmhouse tables.
ZUPPA'S RESTAURANT L D T
59 Main St, Yonkers
914.376.6500; zupparestaurant.com
Trendy upscale restaurant serving locally-inspired modern Italian dishes in a historic building near the Yonkers' waterfront.
Visit HudsonValleyRestaurantWeek.com for the latest additions, menus and to make reservations.
42 THE VALLEY TABLE MARCH – MAY 2020
KEY: L LUNCH $22.95 D DINNER $32.95 T CONVENIENT TO METRO-NORTH X EXCLUSIONS APPLY
THE WOULD RESTAURANT
D
120 North Rd, Highland
845.691.9883; thewould.com
New American cuisine with a French flair and a long history of warm hospitality in the heart of apple country.