Page 37 - Vallet Table - Spring 2020
P. 37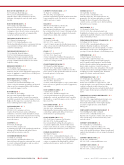 BLU AT THE LAKEHOUSE L D
825 South Lake Blvd, Mahopac 845.621.5200; bluatthelakehouse.com Lakeside farm to table restaurant located in Mahopac offering fresh seafood, steak, and a raw bar.
BOCUSE RESTAURANT L D
1946 Campus Dr, Hyde Park
845.451.1012; bocuserestaurant.com
This Culinary Institute of America restaurant re-imagines classic French cuisine using modern techniques with a new style accompanied by casual yet sophisticated service.
THE BORLAND HOUSE INN L X
130 Clinton St, Montgomery
845.457.1513; theborlandhouse.com
This bed and breakfast features a restaurant offering seasonal farm-fresh ingredients with Southern comfort food influences.
THE BRIAR'S RESTAURANT L D
512 N State Rd, Briarcliff Manor 914.762.3424; thebriarsrestaurant.com Traditional American restaurant offering "down-home" traditional American fare with a touch of Mediterranean influence in a warm lodgelike setting.
BROADWAY BISTRO L D X
3 S Broadway, Nyack
845.353.8361; 3broadwaybistro.com
Authentic Tuscan cuisine with dishes ranging from terrine of eggplant to cavatelli, broccoli rabe pesto, and sweet Italian sausage.
BROTHER'S FISH AND CHIPS D T
172 N Highland Ave, Ossining
914.488.5141; brothersfishandchips.com
Classic seafood restaurant specializing in fish and chips as well as reimagined dishes like fried bass tacos and red snapper ceviche.
BUTTERFIELD D X
3805 Main St, Stone Ridge
845.687.0887; butterfieldstoneridge.com
An 18th century Dutch Colonial stone mansion tastefully renovated in the historic hamlet of Stone Ridge sets the stage for a seasonal new American menu redefining farm-to-table cuisine.
CAFE AMARCORD D T X
276 Main St, Beacon
845.440.0050; cafeamarcord.com
Creative New American cuisine with Italian undertones, served in a warm atmosphere. Enjoy an artisanal cocktail at the onyx bar before having dinner in the bistro-style dining room or on the street-side terrace.
CAFÉ PITTI L D
40 Front St, Newburgh
845.565.1444; cafepitti.com
A charming spot right on the Newburgh waterfront offering wood fired pizzas and Italian classics paired with an extensive wine list.
CANTERBURY BROOK INN D
331 Main St, Cornwall
845.534.9658; canterburybrookinn.com Swiss-influenced European continental fare served in a rustic setting with fireplaces and an outdoor terrace overlooking a brook.
CATHRYN'S TUSCAN GRILL L D T
91 Main St, Cold Spring
845.265.5582; tuscangrill.com
Romantic and whimsical with an Italian menu that leans toward the north. The wine list is extensive and the welcome is warm.
CELLAIO D
888 Resorts World Drive, Monticello 845.428.7497; cellaiosteak.com
Italian-inspired steakhouse with a menu curated by acclaimed chef Scott Conant. Offerings include dry-aged Black Angus beef, antipasti, fresh pastas made in-house daily, and a raw bar.
CENA 2000 L D
50 Front St, Newburgh
845.561.7676; cena2000.com
Cena 2000 pairs an upscale Mediterranean menu and a serious wine list with Hudson River views on the Newburgh waterfront.
CHARLDTX
2 S Water St, Greenwich, CT
203.900.1100; charct.com
A sister restaurant to Dolphin, this upscale yet casual restaurant offers contemporary American cuisine in a setting to match.
COOKED & CO. D T
128 Garth Rd, Scarsdale
914.205.3939; cookedandco.com
Think Brooklyn vibe, but in Westchester. Be prepared to feel at home right when you walk through the doors. Known for their American comfort cuisine, you'll be sure to find something that satisfies your cravings.
THE COOKERY D T
39 Chestnut St, Dobbs Ferry
914.305.2336; thecookeryrestaurant.com Neighborhood eatery serves a neo-nostalgic menu, capturing the warmth of Italian comfort food while using sustainable products.
COPACABANA BRAZILIAN STEAKHOUSE L D X 29 N Main St, Port Chester
914.939.6894; copacabanasteakhouse.com Authentic Brazilian steakhouse offering the traditional all-you-can-eat meat parade, or rodizio. Immediately feel like you're entering Brazil once you step foot into the vibrant, colorful dining room.
COPPER HOUSE L D X
11 Taylor Square, West Harrison
914.949.5810; copperhouseny.com
Collaboration between Chef Joseph D'Angelo
and CIA grads Joseph Engongoro and Alexander Avellino blends together Italian inspiration with farm-to-table creations. Comfort food meets sophistication in this rustic atmosphere. The locally sourced menu features reimagined Italian classics including prosciutto di Parma pizza, butternut squash orecchiette, and risotto fritters.
COPPER KETTLE CAFÉ L D T X
201 E Hartsdale Ave, Hartsdale
914.723.1065; copperkettlecafe.com
In this sister restaurant of Copper House, Chef Joseph D'Angelo serves up his favorite childhood comfort food meals in this relaxed yet chic establishment. Fan favorites include the kettle short rib, free range chicken pot pie, and grilled octopus starter.
COPPOLA'S LA FANTASIA RISTORANTE L D X 3581 Rte 9W, Highland
845.691.7832; coppolaslafantasiaristorante.com Chef/Owner Nick Coppola offers authentic, homemade Italian dishes of the highest quality around. Feel right at home at this Hudson Valley gem.
CORTLANDT COLONIAL RESTAURANT D
714 Old Albany Post Rd, Cortlandt 914.739.3900; cortlandtcolonial.com Reminiscent of a private country estate, the menu offers a wide range of American favorites, from seafood to beef.
COSIMO'S WOODBURY L D
100 County Rt 32, Central Valley
845.928.8265; cosimoswoodbury.com
Casual and contemporary Italian cuisine with
some of the world's best wines. Warm, friendly and sophisticated atmosphere in four uniquely designed locations.
COSIMO'S BRICK OVEN L D
620 Rt 211 E, Middletown 845.692.3242; cosimosmiddletown.com
COSIMO'S ON UNION L D
1217 Rt 300 (Union Ave) Newburgh 845.567.1556; cosimosunion.com
  HUDSONVALLEYRESTAURANTWEEK.COM 􏰂 􏰁 􏰀 #HVRW
MARCH – MAY 2020 VALLEYTABLE.COM 35
CHAR STEAKHOUSE & BAR
D
151 Bryant Pond Rd, Mahopac
845.526.1200; charsteakhouseandbar.com
Casual dining with a classic steakhouse feel. The menu centers on dry-aged steaks and fresh seafood but with options for every taste.
CHAT 19 L D T
19 Chatsworth Ave, Larchmont
914.833.8871; chat19.net
A casual, relaxed atmosphere to enjoy owner Mario Fava's selection of grilled food, seafood, appetizers, and salads.
CHAT AMERICAN GRILL L D T
1 Christie Pl, Scarsdale
914.722.4000; chatamericangrill.com
Upscale pub and American grill serving steaks, sandwiches, seafood, and salads. Enjoy a meal by the fireplace, or watch the game on one of three flat-screen TVs.
CITY LIMITS DINER L D T X
200 Central Ave, White Plains
914.686.9000; citylimitsdiner.com
Redefining the American diner with a menu of comforting, sophisticated dishes, from house- smoked meats to gourmet pastry.
CLOCK TOWER GRILL L D X
512 Clock Tower Commons Dr, Brewster 845.582.0574; clocktowergrill.com
In a renovated barn setting, the atmosphere is casual yet sophisticated. A farm-to-table menu features rustic American cuisine, including prime burgers, lobster mac and cheese, and osso buco.
COMMUNAL KITCHEN D X
162 Main St, Nyack
845.535.3133; communalkitchennyack.com Drawing inspiration from local, organic products, chef and owner, Jed Gidaly, serves globally inspired cuisine accompanied by handcrafted cocktails, small production wines, and local craft beers.