Page 35 - Vallet Table - Spring 2020
P. 35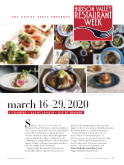 3 COURSES • $22.95 LUNCH • $32.95 DINNER*
                                 THE VALLEY TABLE PRESENTS
  Clockwise from top left: Fig & Olive, The Rare Bit, Goosefeather, Dutch Ale House, Willow by Charlie Palmer
march 16–29, 2020
*excludes tax, beverage & tip
march – may 2020 valleytable.com 33
SPRING INTO HUDSON VALLEY Restaurant Week! The largest culinary celebration in the region is back with over 200 of the Hudson Valley's best restaurants serving up the finest
food for 14 delicious days. Chefs throughout the region celebrate the valley's culinary scene by combining local ingredients on to their innovative menus. Dining out during restaurant week drives the "eat & drink local" movement.
Hudson Valley Restaurant Week would not be possible without support from its generous
sponsors. Their partnership creates a positive impact on the local economy and further positions the Hudson Valley as a culinary destination.
Restaurant Week is the perfect time to share a meal at your favorite place or discover a new one. Be sure to reserve today, as space fills up quickly during this two week foodie event. To browse restaurants, menus, or book your reservation, visit HudsonValleyRestaurantWeek.com.
Happy Spring Restaurant Week!