Page 56 - 2018 Ulster County Travel Guide
P. 56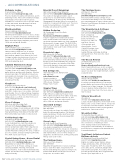 ACCOMMODATIONS
Belleayre Lodge
15 Hostel Drive, Pine Hill
845-254-4200 belleayrelodge.com
Five two-bedroom cabins with kitchens, porch and living rooms. Three self-contained cottages. Gas fireplace. Recreation hall for guests. Available for conferences for 60 people. Walk to lake and beach. Near Belleayre ski area, fishing, hiking, tubing and swimming.
Blackberry Barn
Queens Highway, Kerhonkson
917-653-6555 blackberrybarn.net Modernized lofted barn on seven acres. Sleeps two to six, 1.5 baths. Fireplace, full kitchen and pond. Minutes from Mohonk and Minnewaska. Rates from $120/night. Available year-round. Child, pet and group friendly.
Brigham Place
234 N. Brigham Lane, Lake Katrine 845-802-4580 brighamplace.com Hudson Valley's funkiest one-of-a-kind vacation rental, with a waterfront in the back and an organic bison farm in the front. Cottage includes two bedrooms (four to six people) with two baths, furnished kitchen, WiFi and sprawling deck.
Catskills Waterside Cottage
210 Esopus Creek Road, Saugerties 845-532-5565 esopuscreekcottage.com Cottage sleeps up to eight. Fully-equipped galley kitchen and den with fireplace. Wireless internet and cable TV. Waterfront, bluestone deck and boats included. Only one mile from the village of Saugerties. Accessible, child, pet and group friendly.
Chezbevet
12 McGee Road, Woodstock
845-679-5188 facebook.com/chezbevet One cabin with efficiency kitchen, cable TV and WiFi. Outdoor pool. Accessible, child and dog friendly. Close to skiing, hiking, shopping and restaurants. Three miles from Woodstock village green. Less than one mile from Levon Helm's Midnight Ramble.
Clove Cottages
200 Rock Hill Road, High Falls
845-687-4170 clovecottages.com
Seasonal cottages. Scenic and peaceful setting. Some with a fireplace. Llamas. Mountain views. Near great hiking. Child and pet friendly. WiFi. Environmentally responsible. Solar powered.
Cold Spring Lodge
530 Oliverea Road, Big Indian
845-254-5711 coldspringlodge.com
Seven individual two- and-three bedroom cottages with wood-burning fireplaces, kitchen and private baths. Main lodge has six double bedrooms with private baths. Lovely Catskill Mountain setting on 40 acres. Outdoor pool. Accessible, child, pet and group friendly. Free WiFi. Open year-round.
Crystal Spring House - House Rental
49 Burnham Hollow Road, Big Indian 845-586-1080 crystalspringhouse.com Beautifully renovated 1850s farmhouse. Groups of 10 to 16. Private setting on stream. Catering available. Meeting, retreat and reunion facilities. Year-round weekend/weekly rentals. Ski and discount packages. WiFi. Child and pet friendly.
Emerald Forest Bungalows
949 Ulster Heights Road, Ellenville 845-647-9543 emeraldforestbungalows.com Two bedroom bungalows/cabins (each
sleeps four to six) with kitchens and porch. Tucked away on 75 acres in the enchanting Shawangunk Mountain Valley for recreation or relaxation. In-ground salt water pool. Two-acre pond stocked with bass. Accessible, child friendly, cats allowed. Free WiFi.
Hidden Cedar Inn
98 Sinsabaugh Road, Pine Bush
845-744-7444 facebook.com/HiddenCedarInn
A 5,200-square-foot newly built vacation home rental includes six bedroom suites,
each with a private bathroom. Fully-equipped kitchen, patio, lounge, smart TVs, WiFi, DVDs, stereos, towels, linens. Steps away from forest and meadow. Open year-round. Child, pet and group friendly.
Phoenicia Lodge
5987 Route 28, Phoenicia
845-688-7772 phoenicialodge.com
Cozy rooms, cottages and suites situated in a wooded valley between Route 28 and the Esopus Creek. Surrounded by the gorgeous Catskill Mountains. Just minutes from Main Street with fantastic shops and restaurants. Close to skiing, hiking and more.
Red Cottage Inc.
7991 State Route 55, Grahamsville 845-985-7153 redcottageinc.com
Vacation rentals in
Chichester and Claryville. Office hours, Monday- Friday, 9 a.m.-5 p.m.
Simpler Times
The Carriage House
281 Main St., Pine Hill
917-443-6754 pinehillcarriagehouse.wordpress.com Renovated 19th-century carriage house.
Full kitchen and dining room. Two bedrooms plus extra daybeds in sunny loft-like space. Minutes from Belleayre Mountain in the lovely hamlet of Pine Hill.
The Weyside Inn & Cottages
91 Fire House Road, Big Indian 845-254-5484 theweyside.com Each cottage has
bedrooms with private
baths, full kitchen,
living room, cable TV
and deck. The inn
offers private and
shared baths. Scenic
Catskill Mountain views
and lake. On-site and
nearby fishing, swimming, boating, skiing and more. Pets welcome. Open year-round.
The Woods Retreat
28 Frankel Road, Accord
845-658-9330 thewoodshudsonvalleyretreat.com
Rustic handcrafted house on 40 secluded acres. Open floor plan and upstairs loft with queen-size bed. Two-night minimum. Call for weekend rates.
Tin Roses Bungalows
183 East Road, Wallkill
415-596-2557 facebook.com/tinroses Four fully-stocked efficiencies, each with private baths and screened front porches. Reminiscent of days long ago. Pet friendly. Close to Hudson Valley attractions. Only 90 miles from New York City. Open June to mid-October.
Villas in Woodstock
Woodstock
917-596-8533 villasinwoodstock.com Luxury vacation properties in the heart of the famous arts colony of Woodstock. Sleeps two to 12 people. Hot tub, fireplace, steam room, brand new kitchens, baths, private gardens and privacy. Open year-round.
Woodstock Way
15 Waterfall Way, Woodstock
845-819-6286 woodstockway.com
Eight modern bohemian suites nestled within the historic town of Woodstock. Enjoy the convenience of walking to town
while staying inside newly-refurbished
living spaces surrounded by an enchanted peaceful forest complete with waterfall and a meandering brook.
Yogi Bear's Jellystone Park at Birchwood Acres
85 Martinfeld Road, Greenfield Park 844-377-4163 nyjellystone.com Eighty-six cabins, luxury trailers, deluxe lodges and deluxe villas. All rental units have cable TV and free WiFi. Pool, water zone, lake, sports, snack bar, playgrounds and activities program. Accessible, child, pet and group friendly. Meet Yogi Bear and friends. Open April 28-Oct. 9.
Celebrating more than 100 years of hospitality.
54
2018-2019 ULSTER COUNTY TRAVEL GUIDE
5973 Route 28, Phoenicia
845-688-5410 simplertimescabins.net
Eight efficiency cabins by Esopus Creek. Three cabins sleep four, four cabins sleep two, and one new log cabin sleeps two to four guests. Three cabins are year-round. Acces- sible, child, pet and group friendly.
Sky Island Cottage
367 Main St., Kerhonkson
845-626-3661
Queen bedroom sleeps two adults. Private bath. Wood-burning fireplace. Full kitchen, washer and dryer. Private deck faces field along Rondout Creek. Non-smoking. WiFi. Open year-round.
Stony Ledge
59 John Shults Road, Saugerties 845-246-8827 stonyledge.webs.com One-bedroom apartment in a beautiful, fully-furnished log home. Sleeps six. Amenities include spacious dining/living area, full kitchen and washer/dryer. Close to HITS, village of Saugerties and Woodstock. Golfing, skiing and hiking. Open year-round.
The Carriage House
596 Lenox Place, Kingston
845-339-3907
Beautiful loft apartment in restored carriage house. Open floor plan, very private. Full kitchen and dining area, spacious living room, private bath. Bedroom has queen-size bed, sleeps two. Accessible. WiFi.
Featured in Architectural Digest and InStyle.