Page 54 - 2018 Ulster County Travel Guide
P. 54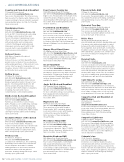 52
2018-2019 ULSTER COUNTY TRAVEL GUIDE
ACCOMMODATIONS
Country and Farm Bed & Breakfast
71 Stonykill Road, Accord
845-626-4596 countryandfarm.com
Two rooms. Private baths. This 27-acre horse farm is perfect for families with children or for couples wishing to have a romantic weekend surrounded by nature. Hot tub. Pet friendly. Open year-round.
Danskammer House
5 West St., Marlboro
845-236-9836 danskammerhouse.com Set in an 1870 Colonial revival overlooking the village center, Hudson River and Taconic Mountains, Danskammer House offers four newly-restored guest suites with private baths and contemporary comforts. Multilingual, widely traveled innkeepers welcome guests with locally sourced, multi-course breakfasts and sightseeing recommendations.
DeForest House
2218 Glasco Turnpike, Woodstock 845-679-8769
DeForest House is a 1920s Byrdcliffe-style private home located on five wooded acres within walking distance of Woodstock's town center. Only four guests. In-ground pool. Fireplace. Internet. WiFi. Accessible, child and pet friendly. Open year-round.
DeMew House
175 Abeel St., Kingston
845-389-2525 demewhouse.com Elegantly renovated home in the historic Rondout waterfront district for up to four guests. One king upstairs bedroom, full kitchen, private driveway, marina views, central air, HDTV, WiFi. Walk to restaurants, shopping, museums and cruises. Complimentary continental breakfast.
ElmRock Inn Bed and Breakfast
4496 Route 209, Stone Ridge
845-687-4492 elmrockinn.com
Farmhouse inn with five rooms. Private baths. Fireplaces. Air conditioning. Carriage house for families. Gourmet breakfast by award-winning chef/owner. Wedding Wire "Couples Choice" Award 2015. Farm-to-table catering for private parties and weddings. Open year-round.
Enchanted Manor of Woodstock
23 Rowe Road, Woodstock
845-679-9012 enchantedmanorinn.com Four rooms. Private baths. Fireplaces. Outdoor heated salt water pool and hot tub. Full breakfast. Massage and Reiki healing. Pond with waterfall on eight private acres. WiFi. Group friendy. Open year-round.
Firehouse Inn
90 Abeel St., Kingston
845-216-3927 firehouseinn.net
Located in an old firehouse, this charming, beautifully restored first-floor suite has an electric fireplace and cable TV. Within walking distance to the historic Rondout waterfront district, with art galleries, museums, boating, dining and shops. Child friendly. Open year-round.
Four Corners Country Inn
1564 Wittenberg Road, Mt. Tremper 845-688-3054 fourcornerscountryinn.com Eight rooms. Private baths. In the heart of the Catskill Mountains. Wraparound porch and deck. Breakfast. WiFi and high-speed internet. Accessible. Near charming hamlets and outdoor activities.
Fox Hill Bed and Breakfast
55 S. Chodikee Lake Road, Highland 845-691-8151 foxhillbandb.com
Three rooms. Private baths. Outdoor
pool, exercise room, hot tub, fireplace in
one room. WiFi. HDTV/DVD in all rooms. Meeting facility for small groups. Quick access to Hudson Valley Rail Trail for biking and hiking to Walkway Over the Hudson. Open year-round.
Hungry Ghost Guest House
35 Cragswood Road, New Paltz
845-255-1702 hungryghostguesthouse.com Three rooms. Shared baths. Exercise room. Hot tub. Vegan/raw cooking lessons, swim les- sons, running instruction and massage. WiFi. Near Hudson Valley Rail Trail.
Inn at Twaalfskill
144 Vineyard Ave., Highland
845-691-3605 innattwaalfskill.com Closest bed and breakfast to Walkway Over the Hudson. Spacious rooms with oversized luxury baths. Sitting areas, fireplace and period antiques. Beautiful grounds with outdoor bluestone patio. WiFi. Bikes available for guests.
Jingle Bell Bed and Breakfast
302 Swartekill Road, Highland 845-255-8458 jinglebellbandb.com Upstairs of a converted barn 30 feet by
50 feet. Cathedral ceilings, lovely antiques, fully-equipped kitchen and private
bath. Landscaped pool in summer. Accessible. WiFi.
Maplestone Inn
541 Route 32 South, New Paltz 845-255-6861 maplestoneinn.com Three spacious rooms with fireplace. Private baths. WiFi, central air, dining room and common rooms with fireplace. Continental or gourmet breakfast.
Patio and acres of lawn and gardens. Group friendly.
Moondance Ridge B&B
55 Shivertown Road, New Paltz 845-255-4161 moondanceridge.com Five rooms. Private baths. Sauna. Conservatory. Labyrinth. Cable TV, WiFi, Netflix. Electric fireplaces. Whirlpool hot tubs. Accessible. Group friendly.
Mountain Meadows B&B
542 Albany Post Road, New Paltz 845-255-6144 mountainmeadowsbnb.com Four rooms. Private baths. Comfortable
and casual with amazing views of the
Gunks and Mohonk Tower. WiFi. Great
room with pool table and fireplace. Outdoor hot tub and inground pool. Children and pets allowed; please call for policy.
Open year-round.
Phoenicia Belle B&B
73 Main St., Phoenicia
845-688-7226 phoeniciabelle.com
Four rooms. Two private baths. In the heart of the Catskill Mountains with hiking, swimming, skiing and biking close by. Free WiFi. Open year-round.
Retreat at Tree Gap
316 Upper Byrdcliffe Road, Woodstock 845-679-5345 treegapretreat.com
Two rooms, each with private bath. An eco-friendly bed and breakfast nestled on 16 acres in the heart of Woodstock.
Rick's Place
74 Van De Bogart Road, Woodstock 800-576-0609, 845-679-1031, 914-388-1608 (cell) One queen suite with private bath. Located between Woodstock and Kingston. Pet-safe fenced garden, deck and stream. Continental breakfast. Living room with fireplace, cable TV, WiFi and library. Laundry room. Children and pets welcomed by prior arrangement. Open year-round.
Rondout Suite
181 Abeel St., Kingston
845-338-7157 rondoutsuite.com
A lovely one-bedroom rental suite that sleeps four near Kingston's historic Rondout water- front district. Fully furnished, first floor guest suite with full kitchen, full bath with walk-in shower, WiFi, large screen TVs, air condition- ing, in-floor radiant heat, washer/dryer, patio with barbecue grill and off-street parking.
Saint Hubert's Lodge
626 Lattintown Road, Marlboro
845-795-0037 sainthubertslodge.com Beautiful bed and breakfast set on 165 acres, offers a luxurious experience to both man and man's best friend. Guests can stay in the luxu- rious lodge, cottage suites or in a one-bed- room apartment. All rooms are dog-friendly.
Saugerties Bed and Breakfast at B&B Tamayo
91 Partition St., Saugerties
845-246-9371 saugertiesbedandbreakfast.net
Four rooms with queen-size beds. Two-bed- room suite sleeps four. Private baths. Historic 1864 building in the heart of Saugerties. Reasonably priced. WiFi. Private parking. Open May-October.
Saugerties Lighthouse
Lighthouse Drive, Saugerties
845-247-0656 saugertieslighthouse.com Two rooms. Shared bath. Kitchen available. Breakfast included. WiFi. Child friendly. Grill for outdoor picnic. Lighthouse reached by nature trail on Lighthouse Drive. Must know the tide schedule to access the lighthouse. Check website for availability.
Schwartz's Inn
70 N. Front St., Kingston
845-389-9918 schwartzsinn.com
Distinctive one- and two-bedroom suites
with private bath, kitchen and sitting room in a charming Victorian setting. Located in the historic Uptown Stockade District, near restau- rants, cafes, shopping, art galleries, museums and bus terminal. Child and group friendly. WiFi. Open year-round.