Page 2 - Sussex County - 2019 Economic Development Guide
P. 2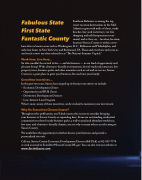 2
Fabulous State
First State
Fantastic County
Southern Delaware is among the top resort vacation destinations in the Mid- Atlantic region with miles of clean, sandy beaches, bays and waterways, tax-free shopping and mild temperatures year- round, and as they say... location, location, location! Sussex County is within a two-
hour drive of metro areas such as Washington, D.C., Baltimore and Philadelphia, and only four hours to New York City and Richmond, VA. Thousands visit here each year, as our beach resorts are often referred to as "The Nation's Summer Capital."
Work Here, Live Here...
So who wouldn't be excited to live — and do business — in our land of opportunity and pleasant living? With a business-friendly environment, shovel-ready infrastructure, low property taxes, business parks and other amenities such as rail and air service, Sussex County is a great place to grow your business, live and raise your family.
Great New Incentives...
In the past two years, Sussex has ramped up its business incentives to include: • Economic Development Zones
• Opportunity and HUB Zones
• Downtown Development Districts
• Low-Interest Loan Program
What's more, many of these incentives can be stacked to maximize your investment.
Why Do Executives Choose Sussex?
Throughout this publication, you'll find reason after reason to consider bringing
your business to Sussex County or expanding here. From our outstanding residential communities to shovel-ready business parks, a well-trained and abundant workforce, low taxes and a business-friendly climate, you see why so many others are relocating to Sussex County.
We would love the opportunity to further discuss your business and provide a personalized site visit.
Call me, Sussex County Economic Development Director Bill Pfaff, at 302-855-7770 or send an email to EconDev@SussexCountyDE.gov. You can also visit our website at www.ExciteSussex.com.