Page 8 - Delaware Medical Journal - February 2017
P. 8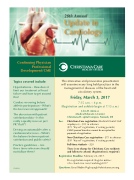 28th Annual
Update in Cardiology
Continuing Physician
Professional Development/CME
Topics covered include:
Hyperkalemia – How does it limit our treatment of heart failure and how to get around this?
Cardiac screening before athletic participation – What's the best current approach?
The obsession with patient satisfaction data – Is this really a quality issue or just PR "fluff"?
Driving an automobile after a cardiovascular issue – What's the balance between patient satisfaction and public safety?
Practice guidelines – Are there times when we should not follow them?
17HRTC20
This innovative and provocative presentation will examine many long held practices in the management of diseases of the heart and circulatory system.
Friday, March 3, 2017
7:15 a.m. – 4 p.m.
(Registration and exhibits begin at 7:15 a.m.)
John H. Ammon
Medical Education Center Christiana Hospital Campus, Newark, DE
Fee: Christiana Care registration (Medical-Dental Staff employees) – $55 in advance
($75 "day of" registration, if seating permits)
CCHS journal transfers cannot be accepted for payment of registration.
Non-Christiana Care registration – $75 in advance ($95 "day of" registration, if seating permits)
Full-time students – $20
There is no charge for Christiana Care residents
and fellows to attend. (Registration is required.) Registration Deadline: February 24, 2017.
Pre-registration required. Register online:
cchs.cloud-cme.com/cardiology2017
Questions: Email Robin Pugh rpugh@christianacare.org.