Page 25 - Delaware Medical Journal - February 2017
P. 25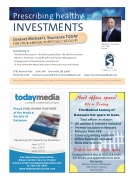 Prescribing healthy
INVESTMENTS
Specializing in:
• Wealth Enhancement • Wealth Accumulation • Wealth Preservation • Business Planning—Group Benefits and Practice Management
• Helping doctors financially for over 20 years
• A deep understanding of physicians' financial needs and history
Michael J. Sicuranza
CFP®, AEP®
Partner
3701 Kennett Pike | Suite 300 | Greenville, DE 19807
(302) 351-1988 | michael.sicuranza@milestonewealthadv.com | www.milestonewealthadv.com
Advisory Services offered through Milestone Wealth Advisors, Inc. A Registered Investment Advisor and separate entity from LPL Financial. Securities offered through LPL Financial, Member FINRA/SIPC.
custom communications
Proud PUBLISHING PARTNER of the Medical
Society of
Delaware
Upcoming 2017 Advertising Deadlines:
April: 3/7/17 May: 4/6/17 June: 5/5/17
For advertising information, please contact Jessica Stryker jessica.stryker@todaymediacustom.com or 302-723-2697 www.todaymediacustom.com
Need office space? We're Renting
The Medical Society of
Delaware has space to lease.
Two offices available:
 All utilities & internet included  Premier location in Newark
 Minutes from I-95
 Covered parking included
 Office furniture included
 Rent one or both
Perfect satellite office space
Contact Partick Rita at 302/224-5189
for details and appointment to view
the space.
Medical Society of Delaware 900 Prides Crossing Newark, Del.
Contact Michael J. Sicuranza TODAY
FOR YOUR ANNUAL PORTFOLIO CHECKUP!