Page 11 - Delaware Medical Journal - February 2017
P. 11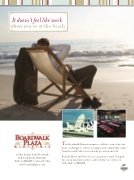 It doesn't feel like work
when you're at the beac.h
2 Olive Avenue & the Boardwalk Rehoboth Beach, DE 19971 (800) 33 BEACH | (302)227-7169 www.boardwalkplaza.com
The Boardwalk Plaza is fortunate to call the ocean's edge our home, and happy to offer you a unique and comfortable respite from the world, where you can truly get away from it all.
Both the Hotel and Victoria's are open year-round. You pick the season that suits you best, and we'll take care of the rest. Call (800) 33 BEACH.