Page 13 - Delaware Medical Journal - February 2017
P. 13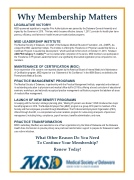 Why Membership Matters
LEGISLATIVE VICTORY!
MSD-sponsored legislation to regulate Prior Authorizations was passed by the Delaware General Assembly and signed by the Governor in 2016. This law, which became effective January 1, 2017, provides for health plan trans- 
MSD LEADERSHIP INSTITUTE
The Medical Society of Delaware, on behalf of the Delaware Medical Education Foundation, Ltd., (DMEF), de- veloped the MSD Leadership Institute. The Institute is offering the "Excellence in Physician Leadership Series, a  AMA PRA Category 1 credit(s)TM can be claimed after completion of the series. MSD members can participate in  members.
MAINTENANCE OF CERTIFICATION (MOC)
As an expression of its concern over reported abuses by the American Board of Internal Medicine's Maintenance

Pennsylvania Medical Society.
PRACTICE MANAGEMENT PROGRAMS
The Medical Society of Delaware, in partnership with the Practice Management Institute, expanded and enhanced
  
LAUNCH OF NEW BENEFIT PROGRAMS
In keeping with the Society's strategic planning pillar, "Making Physician Lives Easier," MSD introduced two major
  offered through XcelHR, is a comprehensive human relations program for outsourcing all aspects of personnel .
PRACTICE TRANSFORMATION

Health Care Commission to provide primary care practices transformation support to prepare for Delaware's health care reform initiatives.
What Other Reason Do You Need To Continue Your Membership?
Renew Today!