Page 68 - Baltimore Fishbowl - 2017 School Guide
P. 68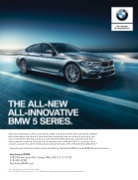 The newest generation of the iconic Sports Sedan is purpose-built for the road ahead, available with technologies that allow it to learn and take commands from the sound of your voice, and react in real time to the way you drive. It can understand hand gestures, and even park itself without anyone in the car. And with 335 horsepower and a thrilling 0-60 in 4.7 seconds,* you can rest assured it has all the thrilling power and performance of the Ultimate Driving Machine.®
Special lease and finance offers will be available by Northwest BMW through BMW Financial Services.
Northwest BMW
9702 Reisterstown Rd, Owings Mills, MD 21117-4120 410-902-8700
NorthwestBMW.com
* 0-60 time based on the 540i xDrive Sedan.
©2017 BMW of North America, LLC. The BMW name, model names and logo are registered trademarks.