Page 40 - Baltimore Fishbowl - 2017 School Guide
P. 40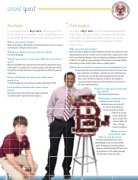 school spirit Andrew
For sixth grader Andrew,  has been a part of his life for as long as he remembers. He has called BL home since kindergarten and shares his Laker pride with his two brothers.
Who is your favorite teacher?
My favorite teacher is Mr. Sloboda. I like the topics that we cover in science, and he makes it really fun and hands-on.
Which two adjectives best describe your school?
Fun and challenging.
Which special event at your school fills you with school spirit?  school spirit. I am proud to be a student at Boys' Latin because I think I can get the best education here, have great friends and be the person I want to be.
If you could change one rule at your school, what would it be?
If I could change one rule at school, I would start the day at 9:00!
How would you describe the culture at your school?
The culture of my school is that I am always inspired to do my best and be my best while having fun.
Carrington
Carrington, a  senior, has embraced all aspects of school life as a three-sport athlete, a member of the Diversity Club, Model U.N. and the Jazz Band, as well as serving as a Laker Buddy to underclassmen. He shares what his school means to him.
Who is your favorite teacher?
My French teacher, Madame Howell. Madame Howell is my advisor, but most importantly she has been a mother to me at school. She is always there to talk  to talk to me if anything is going wrong and she pushes me to grow, whether that is being a better student, better leader, or a better person.
Which extracurricular or activity is most meaningful to you?
The Diversity Club is an outlet for me to discuss the most critical issues that society faces. I have been a member since my freshman year,
and I love how I can see the amazing growth the club has had. There, I don't feel like a student or an athlete, but instead an activist and educator because of the conferences and seminars I am able to attend and lead.
Which two adjectives best describe your school?
Informative and passionate.
What makes you proud to be a student at your school?
Everyone knows my name. BL is a small school, allowing
the faculty and your fellow students to quickly create a bond with
you. Every division interacts with each other, creating a family atmosphere.
When you leave your school, what
will you miss the most?
The family and brotherhood. I have attended Boys' Latin since the seventh grade. I'm going to miss being able to
wake up and walk through the front doors of my school as if I'm walking through
the front door of my own home.