Page 18 - Valley Table - Summer 2022
P. 18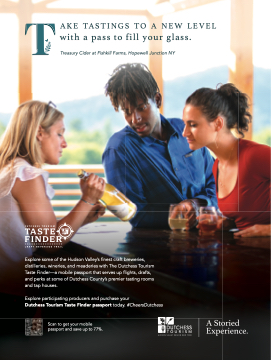 ake tastings to a new level
with a pass to fill your glass.
Treasury Cider at Fishkill Farms, Hopewell Junction NY
          DUTCHESS TOURISM
CRAFT BEVERAGE TRAIL
Explore some of the Hudson Valley's finest craft breweries, distilleries, wineries, and meaderies with The Dutchess Tourism Taste Finder—a mobile passport that serves up flights, drafts, and perks at some of Dutchess County's premier tasting rooms and tap houses.
Explore participating producers and purchase your
Dutchess Tourism Taste Finder passport today. #CheersDutchess
Scan to get your mobile passport and save up to 77%.