Page 20 - Twin Capes Traveller 2020
P. 20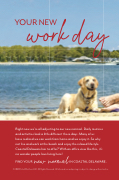 work
Right now we're all adjusting to our new normal. Daily routines and activities look a little different these days. Many of us
have realized we can work from home and we enjoy it. So why not live and work at the beach and enjoy the relaxed lifestyle Coastal Delaware has to offer? With an office view like this, it's no wonder people love living here!
YOUR NEW
day
     FIND YOUR
new normal
IN COASTAL DELAWARE.
©2020 Schell Brothers LLC. All Rights Reserved. All information and pricing is subject to change without notice.