Page 12 - The Hunt - Summer 2022
P. 12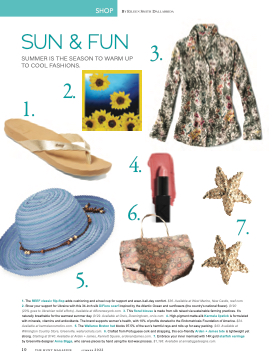 SHOP
By EilEEn Smith DallaBriDa
 SUN & FUN
SUMMER IS THE SEASON TO WARM UP TO COOL FASHIONS.
2.
4. 6.
1. The REEF classic flip-flop adds cushioning and a heel cup for support and wear-it-all-day comfort. $36. Available at West Marine, New Castle, reef.com.
2. Show your support for Ukraine with this 34-inch silk DiFiore scarf inspired by the Atlantic Ocean and sunflowers (the country's national flower). $190
(20% goes to Ukrainian relief efforts). Available at difiorenewyork.com. 3. This floral blouse is made from silk raised via sustainable farming practices. It's naturally breathable for the warmest summer day. $129. Available at Orvis, Downingtown, orvis.com. 4. High-pigment matte-silk Karmela lipstick is formulated with minerals, vitamins and antioxidants. The brand supports women's health, with 10% of profits donated to the Endometriosis Foundation of America. $24. Available at karmelacosmetics.com. 5. The Wallaroo Breton hat blocks 97.5% of the sun's harmful rays and rolls up for easy packing. $43. Available at Wilmington Country Store, Greenville, wallaroohats.com. 6. Crafted from Portuguese cork and strapping, this eco-friendly Arden + James tote is lightweight yet strong. Starting at $140. Available at Arden + James, Kennett Square, ardenandjames.com. 7. Embrace your inner mermaid with 14K gold starfish earrings
by Greenville designer Anna Biggs, who carves pieces by hand using the lost-wax process. $1,198. Available at annabiggsdesigns.com. 10 THE HUNT MAGAZINE summer 2022
3.
 1.
     7. 5.