Page 36 - The Hunt - Spring/Summer 2023
P. 36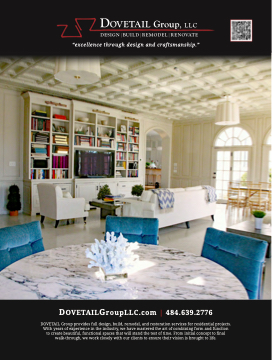 "excellence through design and craftsmanship."
 DOVETAILGroupLLC.com | 484.639.2776
DOVETAIL Group provides full design, build, remodel, and restoration services for residential projects. With years of experience in the industry, we have mastered the art of combining form and function to create beautiful, functional spaces that will stand the test of time. From initial concept to final walk-through, we work closely with our clients to ensure their vision is brought to life.