Page 6 - The Hunt - Fall 2023
P. 6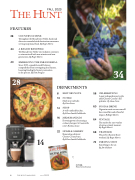 FEATURES
28 COUNTRY CUISINE
Throughout the Brandywine Valley, back-road drives are rewarded with destination restaurants serving exceptional food. By Roger Morris
34 A REGION RENEWED
The Brandywine Valley wine industry continues to reinvent itself with new wineries and new generations. By Roger Morris
40 EMBRACING THE PARANORMAL Since 2005, a spook-focused Delaware
nonprofit has been investigating local haunts, boosting funding for historic restoration
in the process. By Kim Douglas
28
34
56 CELEBRATIONS
A pair weds garden party style amid Chester County's fall splendor. By Gina Lizzo
60 FOOD & DRINK Vegetarian main courses can still have visual flair and a flavorful impact. By Roger Morris
64 VINTAGE
The market for rare watches is having a timely moment. By Roger Morris
68 TRAVELER
The perfect Eastern Shore
weekend. By Roger Morris
72 PARTING SHOT Something in the air.
By Jim Graham
4
THE HUNT MAGAZINE
fall 2023
14
DEPARTMENTS
8 EDITOR'S NOTE
10 NOTED
Mark your calendar.
By Gina Lizzo
14 SHOP
A well-outfitted kitchen.
By Eileen Smith Dallabrida
16 MEMORANDUM Downingtown is becoming a culinary hotspot. Is Coatesville next? By Gina Lizzo
22 HOME & GARDEN Renovating a historic
Chester County barn.
FALL 2023
By Eileen Smith Dallabrida
COVER:
Photo by Jim Graham
     JIM GRAHAM
JIM GRAHAM
   THRIVING WINERIES EASTERN SHORE THE REGION'S FALL ON THE WHO'S AFRAID OF GHOSTS?
L i f e i n t h e B r a n d y w i n e V a l l e y
T H E H U N T M A G A FZ AI NL EL . 2C 0O 2 M3 COUNTRY DINING
The Whip Tavern's braised short rib.