Page 38 - Westchester Magazine - Wine & Food Official Guide
P. 38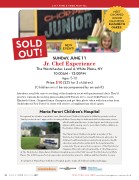 2017 WINE & FOOD FESTIVAL
Magazine Wine & Food Festival and the Jr. Chef Experience PROPERTY LOGO - USE THE LOGO LOCKUP AS IS. DO NOT ALTER.
at The Westchester. Maria Fareri Children's Hospital sponsors the PLAY area at The Westchester in White Plains. The 2,300-square-foot area provides an interactive space for children and their families to enjoy.
4-color process Black + White Spot
It's all part of Maria Fareri Children's Hospital goal to make all children healthy and happy.
MEET CHOPPED JUNIOR CHAMPION ELIZABETH OAKES!
NEW EVENT!
SUNDAY, JUNE 11
Jr. Chef Experience
The Westchester, Level 4, White Plains, NY 10:00AM – 12:00PM
Ages 5-10
Price: $10 ($25 for 3 children) (Children must be accompanied by an adult)
Introduce your little ones to cooking at this hands-on event with professional chefs. They'll practice cupcake decorating, pizza making with Tomato & Co., meet Dobb Ferry's own Elizabeth Oakes, Chopped Junior Champion and get their photo taken with characters from Nickelodeon's Paw Patrol! Jr. chefs will receive a complimentary chef's apron.
Maria Fareri Children's Hospital
Recognized as a leader in pediatric care, Maria Fareri Children's Hospital in Valhalla operates under a "family-centered care" approach to treating children. Every day, its dedicated staff of physicians, nurses,
NICKELODEON LOGO
allied health practitioners, technologists and others provide advanced life-saving care to more than 1 million children in the Hudson Valley region.
The Maria Fareri Children's Hospital, a member of the
Westchester Medical Center Health Network, advocates for
children's health and wellness and actively promotes health
education and activities within both the hospital and the
community. We are proud to be a sponsor of the Westchester
36 | WINE & FOOD FESTIVAL 2017
TICKETS ON SALE NOW! westchestermagazine.com/winefood
C=0, M=55, Y=100, K=0
SOLD OUT!