Page 18 - Visit Delco - Spring/Summer 2021
P. 18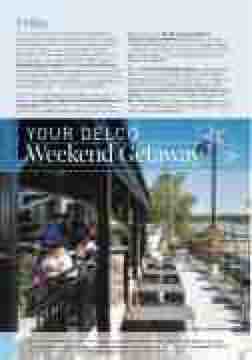 Friday
p.m. Check into one of our many accommodation options in Delco. We have outposts of the most familiar hotel brands, but also cozy little inns and bed & break- fasts. On a romantic getaway? Got Hilton Honors points? Delco has you covered. Or you could settle in
at one of our scenic inns and historic B&Bs, such as Alpenhof Bed & Breakfast or the Inn at Grace Winery. Both have private cottages available for your stay, as well as beautiful gardens where you can lose a few hours on a lovely spring or summer day. Make sure you don't get too comfortable though — there's lots to see and do!
p.m. For a scrumptious seafood dinner with a great view, head to Stinger's Waterfront (www.facebook.com/ StingersWF) in Ridley Park, which overlooks Darby Creek. For a tempting combo of American, French and
Italian cuisine, try The New American Bistro (www.newamericanbistro.net). Its list of specials changes almost daily, so every visit is a surprise! Both restaurants have outdoor seating where you can remain physically distant. (For more amazing outdoor dining options, see page 21.)
 p.m. Harrah's Philadelphia Casino is open for play! Both slot machines and table games are arranged to allow for physical distancing, and masks are required. For a full list of health and safety precautions, visit www.caesars.com/harrahs-philly/casino/health-and- safety. Or, if you're in more of a laidback mood, head to Rose Tree Park for the Summer Festival outdoor concert series, happening Wednesday through Sunday evenings from mid-June to mid-August.
     YOUR DELCO
Weekend Getaway
  STINGER'S WATERFRONT
At the time of writing, all attractions and restaurants listed here were open, though with restrictions. For ticketed attractions and dining destinations, we've included web links for your convenience. Please
16  Spring/Summer 2021
make sure to check these for the latest updates and requirements before you go!