Page 46 - 2018 Ulster County Travel Guide
P. 46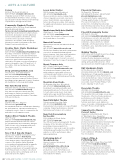 44
2018-2019 ULSTER COUNTY TRAVEL GUIDE
ARTS & CULTURE
Colony
22 Rock City Road, Woodstock
845-679-1625 colonywoodstock.com Originally opened in 1929, Colony is now
a restaurant/bar and music venue, serving upscale pub food and offering a varied lineup of performers throughout the week.
Community Playback Theatre
Boughton Place, 150 Kisor Road, Highland 845-691-4118, 845-691-4111 facebook.com/communityplaybacktheatre Skilled improvisational actors employ music, movement, and spoken word to play back stories told by audience members. Stories cover the whole spectrum of human experience. Accessible, child and group friendly. Free WiFi. Performances the first Friday of each month at 8 p.m.
Creative Music Studio Workshops
P.O. Box 671, Woodstock
845-679-8847 creativemusicfoundation.org Four days of intensive workshops, master classes, intimate concerts and informal jam sessions that inspire active listening, personal expression, improvisation and musical exploration. Evening concert performances open to the public: June 11-15 and Oct. 1-5. Accessible, child, pet and group friendly.
Free WiFi.
Deep Listening Institute, Ltd.
77 Cornell St., Suite 303, Kingston 845-338-5984 deeplistening.org
Promotes the music and Deep Listening practice of pioneer composer Pauline Oliveros, providing a unique approach to music, literature, art, meditation, technology and healing.
Fine Arts Recital Series
Old Dutch Church, 272 Wall St., Kingston 845-338-6759 olddutchchurch.org
Fine Arts at Old Dutch Church musical performances feature area artists. April- June and September-November, Thursdays, 12:15 p.m.-12:45 p.m.
Green Kill
229 Green Kill Ave., Kingston
347-689-2323 greenkill.org
Decentralized, multi-use cultural space featuring art, performances, educational and various community events. Open to communities far and wide to self-organize events.
Hudson River Playback Theatre
Ulster County
845-255-7716 hudsonriverplayback.org Improvisational theater from true stories for entertainment and community dialogue. Public shows, school programs and more. Open year-round. For schedules and bookings, visit website.
Key of Q: A Capella Singers
Hudson Valley LGBTQ Community Center 300 Wall St., Kingston keyofq.org
The LGBTQ and Allied A Cappella Singers of the Hudson Valley. Traveling from all corners of the Hudson Valley blending voices and performing beautiful a cappella music together with a focus on mostly modern secular music in four-part harmony. Performing at least one major concert per year as well as various small gigs such as at pride and open mic nights.
Levon Helm Studios
160 Plochmann Lane, Woodstock 845-679-2744 levonhelm.com
The personal home and recording studio of music legend Levon Helm. Live music venue. Small, intimate surroundings in a historical setting. Accessible. Visit website for additional information and Levon Helm on Facebook.
Marbletown Multi-Arts (MaMA)
3588 Main St., Stone Ridge 845-687-6090 cometomama.org Concerts. Full schedule of classes in yoga, tai chi and dance. Accessible.
Maverick Concerts
Maverick Concert Hall, 120 Maverick Road, Woodstock
845-679-8217 maverickconcerts.org World-class chamber, jazz and contemporary concerts in an award-winning national historic treasure. Late June-mid-September, Saturdays, 6 p.m. and 8 p.m., Sundays,
4 p.m. Young People's Concerts on select Saturdays, 11 a.m; free for ages 15 and under.
Mount Tremper Arts
647 S. Plank Road, Mount Tremper 845-688-9893 mounttremperarts.org
An intimate performance space and
artist residency center with a focus on contemporary performance, music and dance. Accessible, child and group friendly. Open year-round.
Mountain View Studio
20 Mountain View Ave., Woodstock 845-679-0901 mtnviewstudio.com Dedicated to providing a healthy and inspiring atmosphere for those who wish to teach, dance, play music, heal, learn martial arts, yoga and all that enhances each individual life within the community.
New Paltz Ballet Theatre
1 Bonticouview Drive, New Paltz 845-255-0044 npsballet.com
Premier ballet school and not-for-profit ballet company. Student performances. Annual Nutcracker performance in December.
New York Conservatory for the Arts
120 Schildknecht Road, Hurley 845-339-4340 nyca.org
The Official Youth Performing Artist Theatre Academy of the Woodstock Playhouse presenting rising young artists in performance. Open year-round. Accessible, child and group friendly. Free WiFi. Visit website or call for performance dates
and programming.
Performing Arts of Woodstock, Inc.
Various locations, Woodstock 845-679-7900 performingartsofwoodstock.org Presenting three major theatrical productions a year. Performances at various locations in Woodstock. Call or view website for details.
Phoenicia Playhouse
10 Church St., Phoenicia
845-688-2279 (theater), 845-657-6543 phoeniciaplayhouse.com
A community theater organization offering quality theater to the public.
The season includes four or more productions, including musicals, plays
and Christmas and winter shows. Showing older movies monthly on weekend nights.
Pine Hill Community Center
287 Main St., Pine Hill
845-254-5469 pinehillcommunitycenter.org Performances, concerts, arts and crafts
shop featuring local artists and artisans, workshops, classes and more. Catskill Cabaradio, a homespun variety show, is
held March, June, September and December. Open year-round.
Quimby Theatre
SUNY Ulster, 491 Cottekill Road, Stone Ridge 845-687-5262 sunyulster.edu
Summer theater during June and July. Concert series and drama presentations during spring and fall semesters. Other special events are held throughout the year.
R&F Handmade Paints
84 Ten Broeck Ave., Kingston
800-206-8088, 845-331-3112 rfpaints.com Manufacturers of high-quality encaustic paints and pigment sticks. Paint factory,
store and workshops. Classes held year-round in painting and mixed media techniques. Accessible. Open Monday-Friday, 9 a.m.-
5 p.m.; Saturday 10 a.m.-5 p.m.
Rosendale Theatre
408 Main St., Rosendale
845-658-8989 rosendaletheatre.org
This beautiful 250-seat single-screen movie theatre also offers live theater and music performances, with children's theatre, original works by local writers, play festivals and classic work. Admission varies. Accessible, child and group friendly. Fee WiFi. Movies shown nightly.
Saugerties Pro Musica
Concert Series
Saugerties United Methodist Church,
67 Washington Ave., Saugerties 845-679-5733 saugertiespromusica.org
An inexpensive concert series of
professional nationally and/or internationally- known musicians performing classical,
jazz and bluegrass music. Accessible, child and group friendly. Once-a-month performances September-May. Sundays,
3 p.m. Admission: $15/adults, $12/seniors, free for students.
School of Fine &
Performing Arts
SUNY New Paltz, 1 Hawk Drive, New Paltz 845-257-3860 newpaltz.edu/fpa Performances, conferences, workshops, lectures by distinguished visiting artists, composers and musicians. Accessible. Group friendly. Summer: PianoSummer at New Paltz, Vladimir Feltsman, Artistic Director.