Page 30 - 2018 Ulster County Travel Guide
P. 30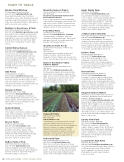 28
2018-2019 ULSTER COUNTY TRAVEL GUIDE
FARM TO TABLE
Bradley Farm/RB Brew
317 Springtown Road, New Paltz 845-255-8769 raybradleyfarm.com
Open April-November. New York State- brewed beer, wine, cider, all-natural seasonal vegetable, eggs, farm-raised pork products, herbs, honey and great farm-to-table dinners and food events every summer.
Buzzanco's Greenhouse & Farm
2050 Sawkill-Ruby Road, Kingston 845-336-6528 buzzancogreenhouses.com Houseplants, ferns, annuals and perennials, flowering plants, unusual cactus and herbs. Vegetables in season. Accessible, child, pet and group friendly. Open April-July, daily,
10 a.m.-5 p.m.; September-October, daily,
1-5 p.m.
Catskill Native Nursery
607 Samsonville Road, Kerhonkson 845-626-2758 catskillnativenursery.com Over 600 species of perennials, herbs, ornamental and fruiting shrubs and trees, water lilies and wetland plants. Unusual pottery and garden art. Accessible, child, pet and group friendly. Open second Satuday in April-Oct. 31, Thursday- Monday, 9:30 a.m.-6 p.m. Closed Tuesdays and Wednesdays.
CDC Farms
10 Orchard Drive, Gardiner
845-883-0272 cdcfarmscheese.com Hand-crafting artisan caciocavallo cheese in four flavors made with fresh Hudson Valley raw cow's milk since 2003. Tasting tours, educational field trips and private parties are available. Call to book your tour.
Davenport Farms
3411 Route 209, Stone Ridge
845-687-0051 davenportfarms.com
Local fruits and vegetables. Greenhouse
with bedding plants, perrennials, trees and shrubs. Apples, cider and baked goods. Steam table buffet, hot lunch and dinner. Open everyday. On Facebook.
Dolan Orchards
1166 Route 208, Wallkill
U-pick apples and cherries. Apples, peaches, pears, plums, vegetables and cider. Accessible, child, pet and group friendly. Open August- February, daily, 9 a.m.-5 p.m.
Dressel Farms
271 Route 208, New Paltz
845-255-0693 dresselfarms.com Seasonal U-pick strawberries, apples and pumpkins. Specialties: apples, cider, peaches, pears and strawberries. Farm market: December-May, Monday-Saturday, 9 a.m.-5 p.m. June-November, daily,
9:30 a.m.- 5:30 p.m. Call for hours.
DuBois Farms U-Pick
209 Perkinsville Road, Highland 845-795-4037 duboisfarms.com
Old New England-style farm offering an array of fruit, baked goods, lunch, family fun activities and more. Open mid-August to November, daily, 10 a.m.-5 p.m.
Ellenville Farmers' Market
Center and Market Streets, Ellenville 845-668-0424 facebook.com/ellenville-farmers-mar- ket-130898950326230
Fresh, locally grown fruits and vegetables, crafts, family entertainment and events. WIC and seniors checks (FMNP) accepted. New crafts and food vendors are welcome. Open Sundays, June 3-Oct. 28, noon-4 p.m.
Four Winds Farm
158 Marabac Road, Gardiner
845-255-3088 bestweb.net/~fourwind Certified organic vegetables, heirloom vegetable seedlings and herbs. Turkey, pork and grass-fed beef. Accessible and child friendly. Call for appointment.
Grey Mouse Farm Foods
22 Grey Mouse Road (just off Route 32), Saugerties
845-246-3405
Homemade jams, mustards, pickles and relishes. Products can be found at the Saugerties Farmers Market and several local stores. Open by appointment only at the farm.
Heart of the Hudson Valley Farmers Market
Cluett-Schantz Park, 1801-1805 Route 9W, Milton
845-616-7824 hhvfarmersmarket.com Freshly-picked organic and conventionally- grown fruits and vegetables, baked goods, eggs, cheese, olives, pasta, pickles, specialty items and products. Special events. Picnic, hiking and playground area. Open June- October, Saturdays, 9 a.m.-2 p.m.
Hurds Family Farm
2187 Route 32, Modena
845-883-7825 hurdsfamilyfarm.com Popular family-friendly tour destination. School, camps, youth groups, birthday parties, reunions and picnics. Jumping Pillow, gem mining, mazes and petting zoo. Cider and donuts. U-pick apples, pears, raspberries, pumpkins, flowers, corn and barnside salad garden. Open August-November, daily,
9 a.m.-5 p.m. Call for camp hours.
Jenkins-Lueken Orchards
Route 299 and Yankee Folly Road, New Paltz 845-255-0999 jlorchards.com
U-pick apples and pumpkins. All varieties
of apples: Northern Spy, Macoun and more. Pears, peaches, cherries, blackberries, rasp- berries, tomatoes and other vegetables in season. Bakery. Honey and cider produced on the farm. July-late May, 9 a.m.-6 p.m.
Kelder's Farm
5755 Route 209, Kerhonkson
845-626-7137 keldersfarm.com
U-Pick fruits and vegetables from asparagus to zucchini. Farm market, homegrown meats, school trips, jumping pillow, corn maze and mini-golf. Petting zoo is open May-October. Pet supplies. Open year-round, seasonal hours.
Kiernan Farm
1308 Bruynswick Road, Gardiner 845-255-5995 kiernanfarm.com
A unique 100 percent grass-fed beef farm located beneath the Shawangunk Ridge in Gardiner and on the Shawangunk Wine Trail, where your appetite for superb beef and pork and scenic beauty are gratified. Accessible, child and group friendly. Well-behaved pets allowed. Open daily year-round. Call ahead.
Kingston Farmers Market
Wall Street, between Main and John Streets (Summer), Old Dutch Church, Wall Street entrance (Winter), Kingston
347-721-7386 kingstonfarmersmarket.org Named "Best Farmers Market" in 2016 by Hudson Valley magazine. Locally grown and made fruits, vegetables, cheeses, meats, wine, spirits, baked goods and bodycare products. Open Saturdays, from Mother's Day weekend -November, 9 a.m.-2 p.m. Winter inside Old Dutch Church; alternate Saturdays December- April, 10 a.m.-2 p.m.
Liberty View Farm
340 Crescent Ave., Highland
845-399-9545 libertyviewfarm.biz Well-known, progressive and beyond organic. Apples, veggies, herbs and flowers. Bed and breakfast. Ag-tourism. Weddings, classes, fundraisers, corporate events and parties. Old farm house with great views and gardens, several barns, wooden yurt, farmstand and more.
Locust Grove Fruit Farm
199 North Road, Milton
845-416-7898 locustgrovefruitfarm.com A seventh-generational family farm offering locally grown farm-fresh Hudson Valley fruits, vegetables and flowers. U-pick. Participates in several green markets. Open noon-dusk.
Hepworth Farms
506 South Road, Milton
845-795-2007
hepworthfarms.com
Celebrating its 200th anniversary. Seventh- generation family farm with 400 acres of NOFA-certified production land yielding more than 400 varieties of organic vegetables. Available wholesale and at Heart of the Hudson Valley Farmers' Market in Milton on Saturdays, June-November. Technical and education consultation by appointment.
Hollengold Farm
222 Lower Whitfield Road, Accord 845-626-1146 hollengoldfarm.com
Farm store is self-serve and open 24 hours every day during the growing season. Featuring fresh produce grown using organic practices, pestos, raw honey, canned goods and vanilla extract as well as botanical drawing work- shops. Open to the public Friday-Sunday.