Page 20 - 2018 Ulster County Travel Guide
P. 20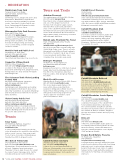 RECREATION
Marbletown Town Park
Tongore Road, Stone Ridge
845-687-0800, 845-687-7830 marbletown.net
Swimming, lessons, playground, picnic area and pavilion. Basketball, volleyball and horseshoes. Pavilion available for private events. Open April-October. Park, 8 a.m.-
8 p.m. Swimming with lifeguard on duty July-August, 10:30 a.m.-6 p.m.
Minnewaska State Park Preserve
Route 44/55, New Paltz
845-255-0752 parks.ny.gov
Located in the Shawangunk Mountains. Offering swimming, hiking, mountain biking, nature programs, rock climbing, horseback riding, boating, picnicking, cross-country skiing, snowshoeing and snowshoe rentals.
Moriello Park and Public Pool
32 Mulberry St., New Paltz
845-255-1700, 845-255-0604 townofnewpaltz.org/pool
Open Memorial Day-Labor Day, noon-7 p.m.
Saugerties Village Beach
Partition Street, Saugerties
845-246-2321 village.saugerties.ny.us Located on the Esopus Creek. A sand
beach with swimming dock, playground area, fishing and picnic areas and slip for kayaks and fishing boats.
The Sojourner Truth Ulster Landing County Park
916 Ulster Landing Road, Saugerties 845-336-8484, 845-340-3300 ulstercountyny.gov
Swimming, beach, hiking trails, picnic/play area and pavilion. Boat launch area. Acces- sible. May-September. See website (Buildings and Grounds Division, Park Info) for specific dates and times.
Ulster County Public Pool
207 Libertyville Road, New Paltz 845-255-7027, 845-340-3100 ulstercountyny.gov/public-works Swimming, kiddie pools, playground and snack bar. Accessible. June-Labor Day. See website (Buildings and Grounds Division) for specific dates and times.
Tennis
Total Tennis
1811 Old Kings Highway, Saugerties 800-221-6496, 845-247-9177 totaltennis.com
A year-round facility featuring 11 red-clay, seven all-weather, two synthetic-clay and five indoor courts. Lessons. Open year-round,
7 a.m.-10 p.m. Accessible, child and group friendly. Free WiFi in all guest rooms.
Woodstock Tennis Club
1703 Sawkill Road, Woodstock 845-679-5900 woodstocktennis.com Memberships. Private and group lessons for all levels. Stringing. Open tennis mixers Thursday, 5:30 p.m.-dark. Drop in for a small fee. Junior Tennis Camp ages 6-16. Call for schedule and special event information.
Tours and Trails
Ashokan Reservoir
Two parking areas off Route 28A, Shokan 800-575-LAND nyc.gov/dep
More than 2 miles of paved walkways along- side one of the largest reservoirs in
the New York City water supply system. Ashokan offers year-round, panoramic
views of the Catskill Mountains with several information kiosks along the path that provide visitors with information about the nation's largest water supply, local history, recreation and bald-eagle watching.
Balsam Lake Mountain Fire Tower
Town of Hardenburgh, Ulster County 845-688-3369 catskillcenter.org/fire-tower-project The 47-foot tower was erected in 1919 with Catskill High Peaks views. There is a 3-mile hiking trail from Mill Brook Road leading to the 3,723-foot summit. Cab at top of tower is open weekends and holidays, June- Columbus Day. Accessible year-round.
Belleayre Mountain
181 Galli Curci Road, Highmount 800-942-6904, 845-254-5600 belleayre.com
Elevations from 1,600 to 3,325 feet of varied terrain. Hike from the Belleayre Beach in Pine Hill or the Interpretive Adventure
Trail. Accessible, child and group friendly. Free WiFi.
Black Creek Preserve
Winding Brook Road (off Route 9W), Esopus 845-473-4440 scenichudson.org
This Scenic Hudson park features 130
acres with 2-mile wooded trail from suspension bridge above Black Creek to Hudson River. Hiking, fishing, cross-country skiing and snowshoeing (ungroomed). "Esopus Explorer" destination. Open year-round, dawn to dusk.
Catskill Forest Preserve
Ulster County
845-256-3083 www.dec.ny.gov/lands/5265.html State-owned and maintained land within Catskill Park. Featuring 300,00 acres of for- ests with meadows, lakes, springs, waterfalls, cliffs, fire towers, wildlife and hiking, mountain biking and snowmobile trails.
Catskill Mountain Club
P.O Box 404, Margaretville
catskillmountainclub.org
Devoted to outdoor recreation, public land stewardship, education, hiking, camping, fishing, canoeing, kayaking, biking and nature-related pursuits in the Catskill Mountains. Child, pet and group friendly. See website for events.
Catskill Mountain Railroad
149 Aaron Court, Kingston
845-688-7400 catskillmtrailroad.com Fun train rides for the whole family in the historic Stockade District of Kingston. Special events include Easter, Thomas the Tank Engine, Halloween and Polar Express. Accessible, child and group friendly.
Catskill Mountains Scenic Byway
Ulster County
845-586-3300 sceniccatskills.com
The Catskill Mountains Scenic Byway celebrates the beauty of the Catskill Park's forested lands and pristine waterways in
the Central Catskills along Route 28. Hike the trails, fish in pristine waters, taste a bit of the Catskills at farmers' markets, delight in the arts and culture festivals and enjoy lively Main Streets.
Drive 28
Chichester
845-688-7333 drive28.com
Offers free, downloadable audio guides to accompany travelers driving Route 28. Hear about the history, culture and attractions along the Catskill Mountains Scenic Byway. Child and group friendly.
Esopus Bend Nature Preserve
10 Shady Lane, Saugerties
845-246-8314 esopuscreekconservancy.org
A unique 161-acre preserve situated less than a mile from the Hudson River with four hiking trails and scenic location along a dramatic bend in the Esopus Creek. Home to eagles, turkeys, turtles, toads, butterflies and more. Visit website for trail map, scheduled hikes and tours.
18
2018-2019 ULSTER COUNTY TRAVEL GUIDE
Catskill Animal Sanctuary
316 Old Stage Road, Saugerties 845-336-8447 casanctuary.org
A haven for rescued farmed animals on
148 acres offering public tours on weekends from April-November and year-round tours to groups and members. Visit website for more information.