Page 16 - 2018 Ulster County Travel Guide
P. 16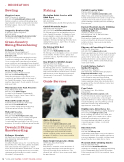 RECREATION
Bowling
Kingston Lanes
644 E. Chester St., Kingston
845-338-1414 patelskingstonlanes.com Family recreation center with bowling, laser tag, redeption arcade, lounge and snack bar. Bowling leagues. Open year-round, daily, noon-10 p.m.
Saugerties Bowlers Club
9 Simmons Plaza, Saugerties 845-246-4969 facebook.com/saugertiesbowlersclub/ A bowling center offering 20 lanes.
Cross-Country Skiing/Snowshoeing
Belleayre Mountain
181 Galli Curci Road, Highmount 800-942-6904, 845-254-6254 for lessons belleayre.com
Five cross-country trails ranging from easy
to difficult totaling 9.2 km. No trail use fee. Cross-country trails open based on natural snow conditions and separated from downhill slopes. Private lessons available weekends and holiday periods with advance registration.
Frost Valley YMCA
2000 Frost Valley Road, Claryville 845-985-2291 frostvalley.org
Thirty-five kilometers of groomed cross- country ski and hiking trails in the heart of the Catskill Mountains. Open weekends, weather-dependent. Check website for hours and open trails.
Minnewaska State Park Preserve
Route 44/55, New Paltz
845-255-0752 parks.ny.gov
Located in the dramatic Shawangunk Mountains. No pets. Open 9 a.m. Call for current ski conditions.
Mohonk Mountain House
1000 Mountain Rest Road, New Paltz 866-966-0348 mohonk.com Cross-country skiing and snowshoeing. Child and group friendly. Free WiFi.
Mohonk Preserve
3197 Route 44, Gardiner
845-255-0919 mohonkpreserve.org
Lands open daily. Cross-country skiing and snowshoeing, conditions permitting. Occasionally groomed trails. Day fee for non- members. Accessible, child and group friendly.
Downhill Skiing/ Snowboarding
Belleayre Mountain
181 Galli Curci Road, Highmount 800-942-6904, 845-254-5600 belleayre.com
SnowEast Reader Survey for "Overall Favorite Eastern Resorts." Fifty trails, glades and parks with varied terrain for beginner to expert skiers and snowboarders. Ranked No. 1 in New York for best grooming and snow. Accessible, child and group friendly. Free WiFi. Catskill Mountains' only gondola.
Fishing
Big Indian Guide Service with Hank Rope
P.O. Box 150, Big Indian
845-254-5904
Guided fishing trips and fly fishing instruction.
Catskill Mountain Angler
346 Route 214, Chichester
845-688-5400 catskillmountainangler.com Fly fishing instruction and guiding services in the Catskill Mountains. Solid advice from knowledgeable, experienced and friendly people. Half-day or full-day guide trips available. Child, pet and group friendly. Open during fishing season, April 1-Nov. 30, daily, weather permitting.
Fly Fishing With Bert
P.O. Box 153, Tillson
845 235-4557 flyfishwithbert.com
Fly fishing school and guide service on Catskill trout streams. Private lessons, group and corporate classes. April-November. Child and group friendly.
Ray Ottulich's Wildfish Angler
P.O. Box 264, Stone Ridge
845-657-9522, 845-663-4291 (cell)
Fly fishing guide service: Catskill trout and smallmouth, Hudson stripers. Drift boat float trips. Neversink River, Hudson River, Esopus and Rondout Creeks. Beginner instruction. Groups up to four people. Child friendly. Year-round.
Guide Services
Catskill Country Walks
P.O. Box 423, Woodstock
914-482-5771 catskillcountrywalks.com Walks, hikes, and camping emphasizing the human and natural history and ecology of the Catskills. New York State licensed outdoor guide. Marriage officiant performs weddings in the woods.
Eastern Mountain Sports Climbing School, New Paltz (GUNKS) Climbing School
3124 Route 44/55, Gardiner
800-310-4504, ext. 2, 845-255-3280
emsoutdoors.com
Rock and ice climbing school and guide service. Instruction at all levels. Full-service retail tech shop. Open year-round, daily, 8:30 a.m.-5 p.m.
Edgewood Consulting & Services
P.O. Box 122, New Paltz
845-255-7007 edgewoodcs.com
Private guided hikes in Ulster County's popular and scenic areas by New York State licensed guide. Half or whole day, customized. Team- building facilitation can be added. Insured. Serving couples, families and small groups. Open year-round.
Forsyth Nature Center's Guided Programs
157 Lucas Ave., Kingston
845-339-3053, 845-481-7336 (programs) kingstonparksandrec.org
Guide services include kayaking, bird walks in the Kingston area and surrounding community, snowshoeing, full moon hikes, maple sugaring, nature hikes and education programs at the Forsyth Nature Center and other city parks.
Four Points
27 Flanders Lane, West Hurley
518-321-5115 fourpointsadventures.vpweb.com
Four Points blends outdoor guiding with therapeutic recreation by connecting all ages and abilities to nature. Typical outings include kayaking, canoeing, hiking, survival skills and snowshoeing. Weekends by appointment. Year-round.
HighXposure Adventures, Inc.
Mohonk Preserve, 3197 Route 44/55, Gardiner 800-777-2546 high-xposure.com
Rock climbing specialists since 1974, this premier guide service and school, offers climbing from beginner to advanced. Accommodating individuals as well as corporate groups, camps, scouts and outdoor clubs.
Hike New York
Ulster County
210-724-9611 hikeny.com
Guided hikes and nature tours in the Hudson Valley and Catskills. Hike, paddle and play on your next getaway. Accessible, child, pet and group friendly. Open daily, 8 a.m.-5 p.m.
Mountain Skills Climbing Guides
P.O. Box 991, New Paltz
845-853-5450 mountainskills.biz
Guided rock climbing, ice climbing and hiking in the Shawangunk and Catskill Mountains. Fully-insured and A.M.G.A. accredited. Open year-round.
Alpine Endeavors
P.O. Box 291, Rosendale
877-486-5769 alpineendeavors.com Professional instruction and custom guided trips: rock and ice climbing, mountaineering, hiking, snowshoeing and backpacking
in Shawangunk and Catskill Mountains. AMGA Certified Guides and accredited program. All abilities. Open year-round by appointment only.
14
2018-2019 ULSTER COUNTY TRAVEL GUIDE
Barry Knight Interpretive Walks
1451 Route 28A, West Hurley
845-331-1214
Easy hike to campsite, tower and views of the Catskill Mountains, Ashokan Reservoir, Mohonk Mountain House and more. Pets allowed, but call first. Open year-round, daily, by appointment.