Page 4 - Delaware Medical Journal - February 2017
P. 4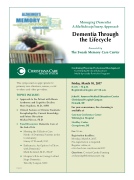 Managing Dementia
A Multidisciplinary Approach
Dementia Through the Lifecycle
Presented by
The Swank Memory Care Center
Continuing Physician Professional Development
Continuing Medical Education Multi-Specialty Portfolio Program
This symposium is appropriate for primary care clinicians, nurses, social workers and other providers.
TOPICS INCLUDE:
 Approach to the Patient with Down Syndrome and Cognitive Decline Mary Stephens, M.D., MPH
 Clinical Features of Chronic Traumatic Encephalopathy: Current Knowledge and Future Directions
Michael Alosco, Ph.D.
 Panel Discussion: Dementia Care at the End of Life
 Meeting the Palliative Care Needs of Dementia Patients in the Community
Linsey O'Donnell, D.O.
 Euthanasia: An Option for Those with Dementia?
Mark Komrad, M.D., FACP
 Hospice's Role in Caring for End Stage Dementia
Timothy Langan, M.D.
17SENS11
Friday, March 10, 2017
8 a.m. – 12 p.m.
Registration begins at 7:30 a.m.
John H. Ammon Medical Education Center Christiana Hospital Campus
Newark, DE
For your convenience, live streaming is available at:
Gateway Conference Center Wilmington Hospital
Stockley Center Georgetown, DE
Fee: None
Registration deadline:
Monday, March 6, 2017. Pre-registration is required. Register online at: cchs.cloud-cme.com/dementia2017
Questions: Contact Cyndy Fanning at cfanning@christianacare.org.