Page 4 - Guide to Greater Philadelphia
P. 4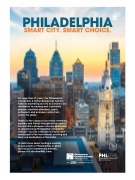 PHILADELPHIA
For more than 75 years, the Philadelphia Convention & Visitors Bureau has had the honor of promoting our city as a world-class destination to meeting and convention planners and their attendees, sports enthusiasts and overseas visitors from across the globe.
Thanks to the support of our many members, partners and friends throughout the region— like-minded colleagues who are dedicated to strengthening Philadelphia's hospitality industry—our city continues to evolve and remain one of the most vibrant, exciting and must-see destinations in the world.
To learn more about hosting a meeting or convention in Philadelphia, or about our exclusive membership benefits, please visit discoverPHL.com.