Page 30 - Guide to Greater Philadelphia
P. 30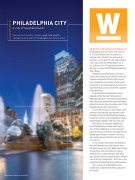 PHILADELPHIA CITY
a city of neighborhoods
For lovers of history, culture, good food and the entrepreneurial spirit, Philadelphia has lots to offer.
28 | Guide to Greater Philadelphia Swann Memorial Fountain in Logan Square
w
WHEN YOU LIVE (AND DO BUSINESS) IN
the Philadelphia area, you truly are at the center of it all. The City of Brotherly Love is not just the sec- ond-largest city on the East Coast, but it's also an easy train or car ride away from other major population centers such as New York and Washington, D.C. In fact, 40 percent of the U.S. population lives within a day's drive, according to the Philadelphia Convention & Visitors Bureau.
Philadelphia International Airport is among the country's busiest hubs, and more than 100 Fortune 500 companies operate within 200 miles of the city. But living in Philadelphia isn't all about convenience and accessibility. It's also about being part of a young, thriv- ing, entrepreneurial city that is nevertheless steeped in culture and history.
You probably knew that Philadelphia is home to Independence Hall, where both the Declaration of Independence and the U.S. Constitution were debated and drafted. But did you know that three James Beard Award- winning chefs are part of the city's culinary scene? Or that Philadelphia has 205 miles of bicycle lanes?
On top of that, the city has a lively nightlife, a thriv- ing theater scene and world-class museums such as the Franklin Institute and the Philadelphia Museum of Art. And let's not forget, living in Philadelphia is surpris- ingly affordable compared to other East Coast cities.
Add to that the fact that many neighborhoods around Philadelphia have a homey, small-town feel. Some of these neighborhoods are only a few blocks long, while others go on for miles, but perhaps the most defining feature they have in common is the fiercely loyal residents who insist that their little slice of the city is the best.
For those trying to make up their own mind about where in Philadelphia they should call home, there's something to please every taste. Whether you're looking for leafy streets, historical architecture, a diverse restaurant scene, locally owned shops, kid-friendly parks, hip music venues or repurposed spaces that give a feel for the city's industrial past — there's sure to be a neighborhood in Philadelphia offering all that and more.
Here's a closer look at Philadelphia's diverse neighborhoods, and what makes them a great place to live and work.