Page 18 - Georgia Forestry - Winter 2020
P. 18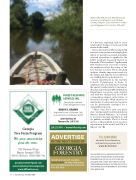 Right: GFC FIA forester Mark Freeman measures tree diameter on a Calhoun County FIA plot. Left: Sometimes it takes special equipment to reach an FIA plot!
of a five-year reporting cycle to accu- rately reflect changes to faster-growing forests in the South.
Data collected by USFS-certified FIA foresters from permanent sample plots (about 20 percent measured annually), selected at random, is supplied to the USFS' Southern Research Station in Knoxville, TN for analysis. Together with FIA statistics from across the country, the numbers reflect the status of the U.S. forestry resource. These data help analysts identify important trends for the future and help the forest industry use credible data to make decisions.
Every department in the Georgia Forestry Commission is home to employees who are dedicated to serving the agency's wide variety of customers. The men and women in GFC's Utilization Department recognize each statistic and land-use change they record has a tremendous impact on the future of forestry in Georgia. With attention to detail today, it's clear our forest resource can be proficiently managed for a sustainable tomorrow.
"These data don't exist any place else," said Georgia Forestry Commission Director Chuck Williams. "It's critical to forestry in Georgia and the U.S., and it's publicly available. The U.S. Forest Service is the premium forest resource organization in the world, and FIA is a big part of it." 
STASIA KELLY IS A MEDIA RELATIONS SPECIALIST WITH GEORGIA FORESTRY COMMISSION. STASIA IS FOCUSED ON TELLING THE STORY OF FORESTRY AND THE IMMENSE IMPACT OF THE INDUSTRY ON GEORGIA'S ENVIRONMENT, ECONOMY AND HERITAGE.
     Georgia
Tree Farm Program
We grow stewardship from the roots.
1132 Clairmont Place Macon, Georgia 31204 478.972.7899 cell, 478.474.5817 fax
 georgiatreefarm@gmail.com www.treefarmsystem.org/georgia www.GATreeFarm.org
 FOREST RESOURCE SERVICES INC.
Specializing in Land and Timber Management & Sales
BOBBY D. BROWN
Registered Forester GA Number 2164 Licensed Realtor in GA Number 165520
20364 GA Hwy #3 Thomasville, GA 31792
  229.221.3016 • brown@ftrealty.com
     ADVERTISE
IN THE NEXT ISSUE OF
 GEORGIA FORESTRY
Contact your account executive, KAREN BARK, for more information: karen.bark@todaymediacustom.com 443-909-7824
16 | GEORGIA FORESTRY
TO LEARN MORE
about the Forest Inventory and Analysis program, visit www.fia.fs.fed.us.