Page 30 - Georgia Forestry - Issue 3 - Summer 2020
P. 30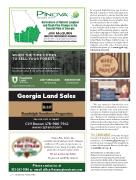 WHEN THE TIME COMES TO SELL YOUR FOREST...
Contact the land experts to help you achieve maximum value from a broad marketplace.
www.fountainsland.com
 

 

Georgia Land Sales
Service sets us apart
Cliff Bowen 478-986-7942 www.rspland.com
Nunez Pine Straw, Inc,
a family owned and operated company with over 35 years of experience, is looking to lease Long Leaf pine straw properties to harvest pine straw.
We are paying top dollar.
Registered and Fully insured.
Please contact us at
912-367-7040 or email office@nunezpinestraw.com
"We are excited to launch this tool, which will be a continuation of our invest- ment to provide fun and interactive resources to students at a state-wide level," said GFA President and CEO Andres Ville- gas. "Between our existing resources and this new feature, more and more students will learn about the importance of working forests and forest product industries, the types of jobs in the forestry sector and the skills needed to be successful."
TO LEARN MORE about the Georgia Forestry Foundation and its education initiatives, visit www.gffgrow.org. To learn how you can support the foundation, contact Development Director Jo Hodges at jo@gffgrow.org. 
MATT HESTAD IS THE EXECUTIVE DIRECTOR OF COMMUNICATIONS & STRATEGY FOR THE GEORGIA FORESTRY ASSOCIATION (GFA). GFA IS THE PREMIER ADVOCATE FOR A HEALTHY POLITICAL AND BUSINESS ENVIRONMENT FOR GEORGIA'S WORKING FORESTS, FOREST LANDOWNERS AND FORESTRY-RELATED BUSINESSES.
28 | GEORGIA FORESTRY
be accessed digitally from any location. We will continue to work with educators and our partners to ensure that the next generation of Georgians understands the benefits of working forests whether they are educated at home or online."
As education leaders determine whether or not students will return to school in August, GFF leadership plans to capital- ize on this campaign to continue outreach to parents and educators. Recently, GPB and GFF launched a forestry career game called Make that Paper, which focuses on building career readiness for high school students across the state. To learn more and play the game, go to www.gpb.org/ education/forestry.