Page 19 - Georgia Forestry - Issue 3 - Summer 2020
P. 19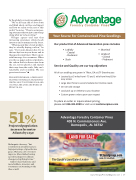 Your Source For Containerized Pine Seedlings
       
 
 
   
 
   
 
      
           
               
        
    
        
      
       
  334-341-2059     containerpines.com
  Advantage Forestry Container Pines 408 N. Commissioners Ave. Demopolis , AL 36732
  by the global coronavirus pandemic. "We've all been able to slow down and think about our lives and impact and how we relate to the rest of this world," he notes. "There's an increas- ing awareness that we just cannot keep
doing what we've been doing." Villegas agrees—and says that increasing awareness always leads investors and consumers to the forest. "When people buy a forest product, they're actually buying carbon," he says. "It's in your Amazon box. It's in the two-by-fours in your house and in the paper in our printers. That's a pow- erful message for consumers. When you choose paper and wood products, the carbon that's in there came from the air, versus plastics and metals that came from the earth. Only one's renewable and recyclable. We can
grow trees forever." 
ELIZABETH LENHARD, A FREELANCE FEATURES JOURNALIST, FREQUENTLY WRITES ABOUT SOUTHERN FOOD AND CULTURE. SHE LIVES AND WORKS IN DECATUR, GA.
      S
S
8
86
E
E
6
6
l
la
6.
.
an
7
75
n
51
d
d
1.
.
g
gr
L
L
r
A
AN
o
ou
ND
u
p
p
.
.
c
co
o
m
m
  T
D
Th
h
e
eS
So
ou
ut
t
h
h
'
's
s
L
L
a
an
nd
dS
Sa
al
le
e
s
s
L
Le
e
a
a
d
de
e
r
r
www.GeorgiaForestryMagazine.com | 17
51%
Projected population increase for metro Atlanta by 2050
Malmquist observes, "but construction actually creates a large percentage of greenhouse gases. We have a lot of room to improve. Mass timber having
a positive impact on climate change is a big thing for me."
And it's clear that more and more builders, investors and consumers are warming to the idea as well.