Page 18 - Georgia Forestry - Issue 4 - Fall 2020
P. 18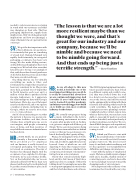 needed to refocus even more on staying in touch with our customers and what was changing on their side. That has packaging implications, supply chain implications, SKU (stock-keeping unit) implications and how you [manage] a surge of demand of 40/50 percent versus a year ago.
SV: We got the first experience with this in China in our operations. So fortunately that gave us something of a head start. Demand changed very rapidly. And fortunately, in corrugated packaging, ecommerce has been very strong. We also make folding cartons, and healthcare packaging has been very strong for us. We've had other areas that haven't been so strong, so an example of that, with the reduced travel, purchases of alcohol in duty-free stores are not what
they were several months ago.
One thing that we use for virtually
everything we make is fiber, and fortunately the virgin fiber stream has been very consistent for us. We procure more than 42 mined tons of virgin fiber in North America each year and 3.3 million of that fiber is purchased from Georgia landowners. So I appreciate the relationships we have with Georgia landowners. We're also one of the largest recyclers in the world, and so we operate a number of plants, including four in Georgia, where we recycle more than 200,000 tons each year.
And it's been interesting to see what the pattern is because we operate sin- gle-stream facilities and that, those volumes have actually gone up, as you can imagine, with people consuming more at home, and then resources of recycled fiber from more industrial users has been down.
MR: At DS Smith, we are predom- inantly a European business. We've got about 30,000 employees and our business is really focused on corrugated packaging. Our business is focused on ecommerce. The mix of business has changed hugely. And the ecommerce has exploded in Europe. You know, we've seen volumes double. Yet, on the industrial side, we've seen demand really fall off. We've been very pleased and have had to work quite hard to get the essential business space in all
of our countries.
"The lesson is that we are a lot more resilient maybe than we thought we were, and that's great for our industry and our company, because we'll be nimble and because we need to be nimble going forward. And that ends up being just a terrific strength." — Steve Voorhees
 16 | GEORGIA FORESTRY
HB:As we all adapt to this new world, it feels like one of the most important things we can all do is really be intentional about how we are continuously improving. And I wonder if you could share what you've learned from this pandemic and what you would suggest we build on to build an even more resilient
industry for the future.
CF: We actually saw progress being made, including in the factory, manufacturing environment in terms of, again, what people work on. Reduce cost, get more output and all those good things. We've seen more progress being made in these six months that are behind us in 2020 than we've seen in years com-
bined. And really, that's pretty telling. We need to reimagine how we do work. We think [about] how work is getting done and, you know, apply those lessons learned. Some of which we are still digesting. To have the courage to trans- form how we do business, whether it's in a corporate environment or in manufac-
turing, how we serve customers.
I know that sounds relatively high- level, and it is, but I mean, if I just take a quick anecdote or examples of what I'm talking about. For example, we were able to start up new equipment in our factories and that's both hardware and software.
The OEM (original equipment manufac- turer) specialist may have been locked in a different county and couldn't come, [or] they were locked down the road in a hotel room because they couldn't access the factory. And still we started up the equipment by working with them remotely and utilizing what everybody could contribute. We deployed ERP (enterprise resource planning) systems completely and in a virtual, remote way, whereas before that, we may have sent eight, 10, 15 people for weeks to a certain location. It worked, and not just barely; it worked sometimes even better. We con- ducted M&A (mergers and acquisitions) processes without anybody actually coming to visit.
SV: I think you'd have to start with the essential nature of our indus- try, and so we really can't fail, because people count on us. The lesson is resil- iency. So we think, what is resiliency, and it's the capacity to recover quickly from
difficulties and change circumstances. I start with the nature of our physical assets. We have a sizable system of paper mills and a sizeable, flexible system of converting assets, and we've been able to move and adapt our assets to meet the
changing needs of our customers.
More important is the resiliency of our teammates that I work with every day.