Page 30 - Georgia Forestry - Issue 4 - Fall 2019
P. 30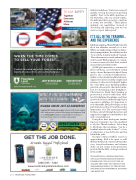 www.drive4pritchett.com
   Pritchett Trucking Inc.
Chatham explained that GFC pilots mostly fly at low altitudes, around 1,000 feet. While one might suspect they use binoc- ulars to pinpoint fires, he said they use the "look out the window method" instead. "Binoculars move too much and make you sick," he said. With required 20/20 vision, or vision corrected to that level, trained eyes produce excellent results.
A GFC pilot must have a commercial pilot certificate, an instrument rating and 500 hours' fly time to be hired. Every pilot is also a certified wildland fire- fighter, so they understand fire behavior, suppression tactics and the complicated nuances of a fire event. Each pilot begins his or her GFC career by flying wildfire patrol in a Cessna 182, the ideal founda- tion for developing aerial firefighters. Pilots learn to blend their training as professional aviators with their wild- land firefighting knowledge and then grow both of those skills through heavy exposure to wildfires. It's important to note that while GFC pilots begin on the patrol mission, it doesn't at all lessen the importance of it. The service provided by these aircraft through detection and suppression support is invaluable to the unit's overall mission.
Four pilots have undergone further rigorous training to become qualified to fly the Thrush tankers. According to Chatham, the new planes "can be a handful when heavily loaded," so lots of experience is needed before getting behind the yoke.
Georgia's winter wildfire season is approaching. Will it be quiet or will Mother Nature lob a curve ball? In either case, forest landowners and citizens alike can feel secure in the protection provided by the GFC, on the ground and in the air. 
STASIA KELLY IS A MEDIA RELATIONS SPECIALIST WITH GEORGIA FORESTRY COMMISSION. STASIA IS FOCUSED ON TELLING THE STORY OF FORESTRY AND THE IMMENSE IMPACT OF THE INDUSRY ON GEORGIA'S ENVIRONMENT, ECONOMY AND HERITAGE.
T.E.A.M SAFETY
Together Everyone Achieves More
1-800-845-2899
initial attack phase. You have to respond quickly to keep the fire from growing rapidly." Prior to the GFC's purchase of the Thrushes, only one attack vehicle, the helicopter that can carry 200 gallons at a time, was available. "These planes multiply our capabilities. Instead of observing and reporting, now we can observe, report and respond."
   It,s all in the Training...
 and the Experience
   WHEN THE TIME COMES TO SELL YOUR FOREST...
Contact the land experts to help you achieve maximum value from a broad marketplace.
           

 

     www.fountainsland.com
              DIGGING CAN BE JUST AS DANGEROUS
Contact 811 before you dig to have utility lines marked AND help protect yourself from injury and expense. Log on to Georgia811.com or simply dial 811 at least 2 business days before you begin your project.
                               Accurate. Rugged. Professional.
   
     
     28 | GEORGIA FORESTRY
NO!