Page 28 - Bronx Chamber of Commerce - 2019 Business Directory & Resource Guide
P. 28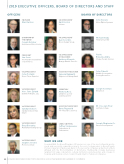 2019 EXECUTIVE OFFICERS, BOARD OF DIRECTORS AND STAFF
OFFICERS
FOUNDER
Elias Karmon
CHAIRMAN OF
THE BOARD
Joseph Kelleher Hutchinson Metro Center
PRESIDENT
Lisa Sorin
The New Bronx Chamber of Commerce
VICE PRESIDENT
John Collazzi
Bronx Times Reporter
VICE PRESIDENT
Hon. June Eisland
Eisland Strategies, LLC
VICE PRESIDENT
Sandra Erickson
Sandra Erickson Real Estate
VICE PRESIDENT
Greg Gonzalez
Manhattan Parking Group
VICE PRESIDENT
Stephen Jerome
Monroe College
VICE PRESIDENT
April Horton
Verizon
VICE PRESIDENT
Geri Sciortino
Bronx Design Group
VICE PRESIDENT
& TREASURER Anthony Mormile Orange Bank & Trust Co.
ASSISTANT TREASURER
Vanessa Baijnauth
Ridgewood Savings Bank
SECRETARY
Anthony Ross
Children's Corner Learning Center
ASSISTANT SECRETARY
Barry Fitzgerald
F & F Insurance Services
LEGAL COUNSEL
Jeffrey Underweiser
Underweiser & Underweiser
WHO WE ARE:
BOARD OF DIRECTORS
John Bonizio
Metro Optics Eyewear
Michael Brady
Third Avenue BID
Yvette Brissette-Andre Unique People Services
John Calvelli
Wildlife Conservation Society/Bronx Zoo
Joseph Coleman
RiteCheck
Dr. Jose Luis Cruz
Lehman College
Joseph Deglomini Jr.
Simone Development
                               26
2019 BRONX BUSINESS DIRECTORY & RESOURCE GUIDE | THE NEW BRONX CHAMBER OF COMMERCE
Founded 1894, the Bronx Chamber of Commerce is one of the most influential, profes- sional and successful organizations and is the voice for businesses in Bronx County. Professionals and companies are drawn to the successful companies and active members affiliated with the Bronx Chamber of Commerce. Membership includes businesses ranging from large corporations, cultural institutions and universities and colleges to hospitals and medical centers, nonprofits and small to mid-sized companies.