Page 19 - Baltimore County Quality of Life Guide and Business Directory
P. 19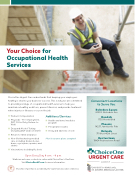 Your Choice for Occupational Health Services
 Convenient Locations to Serve You:
Belvedere Square
600 E. Belvedere Ave
Dundalk
1730 Merritt Blvd
Phoenix
14237 Jarrettsville Pike
Rotunda
711 West 40th Street
Reisterstown
11804 Reisterstown Road
   ChoiceOne Urgent Care understands that keeping your employees healthy is vital to your business' success. This is why we are committed to providing a range of occupational health services to help you maintain a healthy workforce, prevent illnesses, and provide treatment when injuries or illnesses occur on the job.
 Workers'Compensation
 Physicals - Pre-employment, DOT, Fit for Duty, Return-to- Work
 DrugandAlcoholTesting (including DOT and non-DOT)
 Return-to-WorkClearance
 Non-life threatening medical care, including: broken bones, burns, eye injuries, sprains, and strains
Additional Services:
 Health and travel medicine program
 Preoperativeexams
 X-rayandlabtestson-site
Most insurance plans accepted
  Vaccinations including flu shots
Open Every Day 8 a.m. - 8 p.m.
Walk-ins welcome or check-in online with ChoiceOne's OnePass. Visit ChoiceOneUC.com for more information.
                                                 ChoiceOne Urgent Care is accredited by the Urgent Care Association of America.