Page 5 - Baltimore Fishbowl - 2017 School Guide
P. 5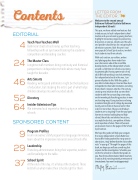 Contents
Editorial
4 Teach Your Teachers Well
Baltimore's best schools ramp up their teaching fellowships with an eye toward beating the academic competition and breeding coaches.
24 The Master Class
Longtime staff members bring continuity and historical perspective to independent schools where many have taught for decades.
46 Arts Smarts
Reading, writing and arithmetic might be the backbone of education, but studying the arts is part of what helps children develop into well-rounded adults.
52 Directory
64 Insider Admission Tips
We interview local experts for their top tips on selecting schools.
SPONSORED CONTENT
9 
From innovative STEM programs to language immersion, learn about the impressive resources area schools offer.
29 Leadership
These key administrators bring their expertise, wisdom and knowledge to the table.
37 School Spirit
At the end of the day, it's all about the students. These kids tell us what makes their schools right for them.
Letter from
the editor
Welcome to the second annual Baltimore Fishbowl Guide to Baltimore Independent Schools!
This year, we have added new features that introduce you to local independent school leaders and up-and-coming young teachers; highlight innovative programs pioneering discoveries in science, robotics and the arts; and provide valuable tips for navigating the admissions process. Back this year is our ever-popular School Spirit section, in which local students tout their schools.
With each section, our editors, writers
and photographers have made their
own discoveries about the incredible developments at the independent schools around us. Baltimore's schools are among its greatest gifts. Having spent much of my adult life both working in and volunteering for independent schools in the area, I can personally attest to this. With this guide, I
was able to delve deeper. I learned how local independent school administrators are taking their schools' missions into the 21st century, creating new initiatives that connect their students with the surrounding community, and reinventing old teaching practices in new and exciting ways. Young teachers are being mentored straight out of college by seasoned faculty, some of whom have served in their roles for more than 20 years. And today's students are so inspiring! From the youngest learners to seniors looking beyond high school, these kids are talented musicians, accomplished artists, competitive athletes and inquisitive scholars. Their enthusiasm and passion show on the pages of the School Spirit section.
We hope this guide will help you navigate the many independent schools Baltimore has to offer. Having worked for many years in admissions, I truly believe that the choice often rests "in your gut." Through the pages of this book, we hope you will see something that inspires further investigation. Schedule your visit to the school (or schools) that speaks to you. Hear from administrators. Watch teachers in action. And, most importantly, meet some of the students. You won't be disappointed!